Think you can't love collard greens? Think again! Here's a seasonal specialty from Jim Leap, Center for Agroecology Farm Manager and organic grower extraordinaire.
Farm Managers Favorite Collards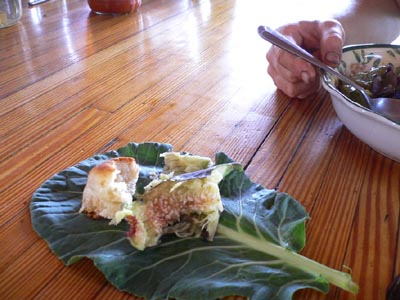 Collard Greens as Plate
Ingredients:
. Freshly harvested collard greens
. Olive oil
. Sesame oil
. Hot pepper oil
. Garlic
.Sesame seeds
Preparation:
. Prepare collard greens by removing lower portion of stem
.Carefully stack and roll up about 15 leaves at a time and cut into1/2 inch wide strips
. In a cast iron frying pan or wok heat olive oil
. Throw in some coarsely chopped garlic, a dash of hot pepper oil and a dash of sesame oil
. Quickly sauté the garlic until lightly browned
. Throw in collard greens and under fairly high heat toss to uniformly heat and mix
. While sautéing greens add a dash of salt or soy sauce and toss in sesame seeds
. Uniformly mix, lower heat, add a tiny bit of water, cover and steam for several minutes.
Jim told me he likes to serve this seasonal specialty with some of his wife's whole wheat sourdough bread and a juicy steak of organic, naturally-raised beef. Oh and he partners the whole meal with Condor's Hope Zinfandel made by winemaker JP Pawloski from grapes grown in Santa Barbara County by eco visionary Steve Gliessman.