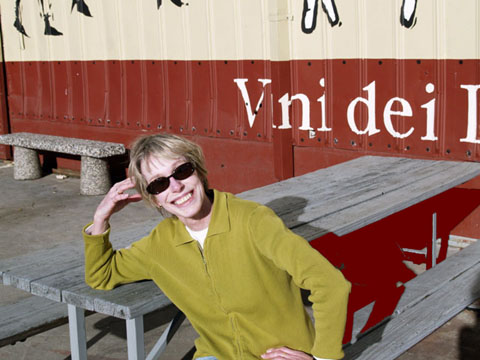 You are about to enter the uncensored, absolutely unrestrained world of observation and expertise known as ChristinaWaters.com. Fresh every week!
Think of this as one-site shopping for everything you've always suspected about the worldly food and wine critic, everything you've always wanted to know
about what she REALLY thinks — and yet didn't dare hope to discover.
The gloves are off! Here's the deal. ChristinaWaters.com is an extension of my various weekly journalism escapades over the past two decades. My weekly web column will spew forth opinion, news, opinion, attitude, criticism and opinion about, 1) food and wine, 2) travel, 3) culture (stuff like art, films, theater, music, opera…yes, opera), 4) eco-politics and 5) much more that eludes and defies categorization.
Check in every Thursday to see what Dr. Waters is on about. Rockin' good rants are the specialty of the house. Christina Waters unleashed. What a concept.
Meanwhile, here is your blog-maestra sitting in front of one of those sweet spots in the world of wine — Bonny Doon Vineyard's Ingalls Street facility, with the familiar logo for Big House Red (which ironically is no longer owned by BD) on the flashy mural behind where I'm sitting. Over the years, it's been hard to think of any better way to have fun for $10 (legal ways that is) than Big House Red with its breathtakingly convenient twist-off cap.
(Incidentally, the photo is just to prove that contrary to popular myth, I am NOT a 250-pound brunette.)