Last night's reception for the Intimate Landscape painting show and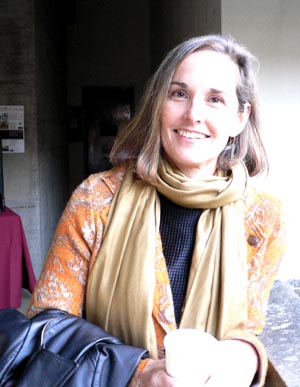 Laura Parker's "Taste of Place" soil installation – at UCSC Sesnon Gallery – brought out a fairly hefty contingent of Santa Cruz arts movers and shakers. Curated by Frank Galuszka and orchestrated by Sesnon director Shelby Graham (left), the painting show attracted emeriti honchos Jack Zajac and Doyle Foreman, as well as Allison Carrillo and Betsy Miller of Museo Eduardo Carrillo. Even cuisinartist Joseph Schultz (one of this year's Gail Rich awardees) made a guest appearance in full culinary leathers. Top painters Ray Ginghofer, Peter Loftus, Miriam Hitchcock, Hannah Hanna (her real name), Melissa Gwyn and Christine Hanlon joined campus celebs Jocelyn and David Hoy, plus the Women of HAVC (History of Art & Visual Culture) Donna Hunter and Elisabeth Cameron, and film scholar Maggie Morse, all of whom arrived wearing serious jewelry.
The best news is that the show continues until the end of the month. Sesnon Gallery is open Tues-Sat from noon-5pm. Call (831) 459-3606 for details – but do get on up there and feast your eyes.