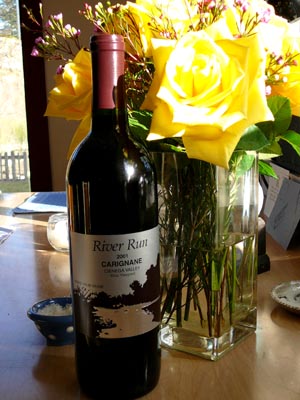 Discovering wonderful wines may not be the answer to world peace, but it helps vamp for time until that day arrives. My house red for the past year has been the sensuous 2001 Carignane from River Run Vintners. Made by the skillful, non-invasive hands of J.P. Pawloski, this glorious bouquet of spice, licorice and berries goes with everything. Pawloski is an auteur, and the proof is in every glass of his fabled red wines. Each time I visit Staff of Life Natural Foods I grab a few bottles. Until this week. OMG! I called J.P. to find out if this was truly the end of my favorite Carignane. Alas, it was true. "We're all out of the 2001," he admitted.
J.P. told me that he could put his hands on some of the 2004 vintage of this exceptional varietal, made from vines planted near Aromas 95 years ago! "The zinfandel is even older," he added, pausing for effect. "Those vines are 115-years-old." Guess that's why they call it "old vine zin." So now you know what to look for. A fairly non-descript, burgundy and silver label. Affordable prices – $10ish. Low alcohol — the Carignane is 13%. Sensational drinking. You can chat with J.P. yourself — there's no reliable web site — by calling the winery at 831/726-3112.
Wine Bonanza:
Go immediately to this Santa Cruz Mountains Winegrowers Association link – SCMWA – nd consider the possibilities for The Ultimate Winemakers Dinner, February 27, involving fine local wines, and their winemakers followed by a dinner at the Shadowbrook. But not simply a dinner, dinner. A major dinner. Consider starters of golden chanterelle and truffle soup. Short rib ravioli, salad of cress, pears and Rogue River blue cheese. Entrees include prime rib with prosciutto and sundried tomatoes, roasted duck breast, Maine lobster. Pouring wines will be reps from Fernwood Cellars (taking lots of medals at regional competitions), Ridge, Beauregard, Bonny Doon, River Run, Zayante, Storrs, and others. The entire restaurant will be reserved for Winemakers Dinner participants, with seatings between 6 and 8pm. Cost is $105 per person, all inclusive. And no, that is not a lot for what you will be tasting. It will sell out quickly, so make reservations by calling 831/685-VINE. . . Speaking of Storrs, the new wine of the moment around town seems to be the spectacularly drinkable Storrs 2004 St. Clare Vineyard, "Red Wine," a deluxe blend of Merlot, Malbec and Petit Verdot grown on the slopes overlooking the St. Clare's convent. Good fruit, good tannin, spice, leather and a back note of blackberry. Stunning! I found a bottle at New Leaf for $17.99 and paired it with a sumptuous ribeye of grass-fed Alderspring Ranch beef.
Here's the Beef!: The Alderspring ribeye steak was $10 more than the wine, and (just like the Slate.com review said) so worth it. (I am such a seafood-lover that I really can live quite happily without beef. And there are so many eco-reasons why bovines are as doomed as the ice in Alaska.)
Having said that, the hardworking people at Alderspring Ranch really do raise healthy beef on the spacious rolling plains of Idaho. The steaks I ordered arrived perfectly packed in dry ice, and with a nice hand-written note from "Glenn & Caryl Elzinga, and the girls" — plus tons of paperwork about exactly how the Angus beef is raised, and exactly how to grill up the steaks so that they stay gorgeously juicy. We grilled ours over hot mesquite! And yes indeed, they were as good, juicy and oozing flavor as beef gets. Find out how you can sample the industry standard of old-fashioned, hand-raised, all-natural, dry-aged, organic, grass-fed beef — Alderspring Ranch.
Vin-o-Cruz: There are many reasons to make a pitstop at Vinocruz, tucked behind the Museum of Art & History, at 725 Front Street. It's sleek and sophisticated. It's loaded with strictly Santa Cruz Mountains appelation wines, and the tastings are surprising. Here's an example of what your $9 budgeted for wine tasting can get you at Vinocruz. Samples of: 2004 Clos La Chance SCM Chardonnay, 2004 Martin Alfaro Pinot Noir, 2003 Savannah-Channelle Cabernet Franc, 2002 Martin Ranch Cabernet Sauvignon, and 2003 Sones Petite Syrah. Remember — in vino veritas.
Robert Parker, the thinking woman's wine god, has bestowed a whopping 94 points on Ridge 2003 Monte Bello, the ultimate blend of Bordeaux varietals. That is a good thing. It sure makes me want to run out and buy a bottle. But wait! What's this? It costs HOW MUCH?!!! $120 a bottle. That is a bad thing. It better be a 94 point beauty for that price. I wonder how much is cost before the 94 point annointment?