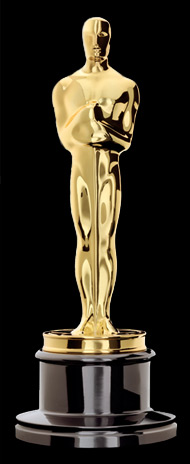 Who can resist
making Oscar predictions? Not me – so here goes.
In a word – Babel, Babel, Babel. I like this intricate love song to trans-cultural existentialism to win Best Picture. Babel should also take Best Director, but given the collective guilt the Academy feels over not having awarded Martin Scorsese the directing award for his Howard Hughes film, it will probably be the much-unOscar'd auteur who steps up to the podium for his directorial work in The Departed.
Best Actor: Forest Whitaker – pretty obvious.
Best Actress: Who else? The Queen. What a terrible year to have been anyone other than Helen Mirren.
Supporting Actor: Alan Arkin, because he is a national treasure.
Supporting Actress: Little miss Abigail Breslin
Original Screenplay: Babel (you should be detecting a theme here…)
Foreign Language Film: Pan's Labyrinth, because it turned cinema into archetype
Animated Feature: Happy Feet – cute overload, and who doesn't love penguins?
Original Score: Gustavo Santaolalla's haunting, trans-ethnic music from Babel
Art Direction: Pan's Labyrinth, such dark and charismatic film stock

Cinematography: Pan's Labyrinth
Makeup and Sound: Apocalypto – calm down! such over-the-top sensory miracles should be rewarded
Documentary Feature: An Inconvenient Truth, made by the man who should have been the current president.
Film Editing: UCSC alum Stephen Mirrione and Douglas Crise, for Babel.