In a word, "yes." But I already knew that, having been lucky enough to dine in the original Paris version of Le Bernardin, as well as the Manhattan one twice before. Perhaps only Jules Verne has done more for seafood than Le Bernardin chef Eric Ripert. But then the Michelin people also know that. Three stars.
My dining partner was a Le Bernardin devotée and longtime Manhattan artist and she was as thrilled with the meal as I was. Armed with a glass of Puligny-Montrachet more costly than most bottles of wine I have in my house, I plunged into a beautiful world of flavors.
It began with an amuse fit for the angels. In a shot glass, lavish morsels of Maine lobster, sweet and moist, sat suspended in a warm lobster foam. My appetizer of yellow fin, pounded thin enough to read through, was layered over a frosting of foie gras, over a paper-thin slice of baguette toast. Each bite moved down through the sparkling tuna, the creamy foie gras and into the crisp toast. Sensational.
Next came a course of warm peeky-toe crab, surrounded with thin filigree of shaved cauliflower and a delicate, yet feisty Dijon/saffron emulsion. The crab was beyond delicious. Did I mention that the tables are spaced so generously, the room so plushly carpeted that I could actually carry on a conversation? Did I also mention service is at once impeccable and warm. Not pretentious. It sounds like an impossible combination, but that's what separates the finest restaurants from places where one merely eats well.
My final course was a supple portion of baked wild striped bass, served in a huge white bowl. Around the square of moist fish — topped with a single Fiji shrimp — were tiny, round ravioli the size of quarters. Filled with an intense tomato essence, they were literally transparent. Never have I seen pasta transformed into something so delicate. One of several wait staff poured a citrus and olive oil sauce all around the fish, and over the little raviolis. He then brought a second sauce of garlicy consomme and curry. The combined viscousities made a pretty pattern around the central attraction.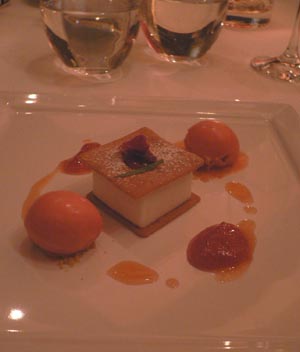 But dessert was to finish me off. I chose something rococo – a Blood Orange creation involving two ovals of blood orange sorbet, and a central Napoleon filled with vanilla yogurt mousse. Lighter than air. The dish was punctuated with a rhubarb-citrus compote, loaded with kumquat. Each course was substantial, yet light enough that I could easily make it to the dessert without ever feeling stuffed.
With espresso, came an array of thumbnail petits fours, including chocolate macaroons and pistachio cream dotted with bitter chocolate. Dinner ended at 11:50pm. The prix fixe meal, excluding wine, was $105 – three unforgettable seafood dishes, the lobster amuse and a sublime dessert. Yes, it's a lot of money. And yes, it was a bargain.
I never even thought twice about having passed up the opportunity to spend three times that amount of money on the required multi-course menu at Per Se, the New York dining annex of The French Laundry. I would go back to Le Bernardin – at 155 W. 51st Street – in a minute. And if you're in New York, you owe it to yourself to have this experience at least once. Make reservations at least two weeks in advance, and be prepared to dine late. You're in New York – live a little.