Manhattan – where the national color is black and the diversity is abundant. You can tell the tourists immediately – they are not wearing black, and they aren't wearing one of those big, cashmere mufflers that are required in the City. In an effort to stretch my culinary dollars I lived a schizophrenic food life last week, ranging from lunches of trail mix to 3-star Michelin dinners. In between, I walked as far as the snowy, slushy streets would allow and inhaled great architecture and even greater artworks. In a nutshell:
The Metropolitan Museum of Art
– still the greatest single temple of art in the country – where I drooled shamelessly over the mind-melting couture collection of Nan Kempner, whose Yves St. Laurent-clad figure adorned the pages of
Vogue Magazine
regularly during my girlhood. . . . I visited my personal favorites in the Rembrandt room, and discovered surprising new passions in the "Glitter & Doom" show. A major revelation – Otto Dix, Christian Schad, and Max Beckmann exposing the craven underbelly of German cafe culture between the wars. . . .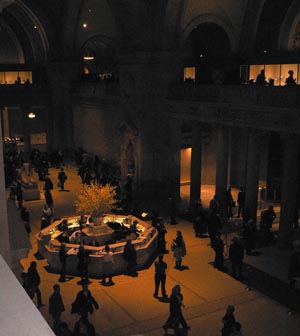 The Met also offered my wonderful final meal of the trip. I went on Friday evening — the Met is open until 9pm on Fri & Sat – and found a string quartet filling the graceful lobby rotunda with music. At a table along the upper mezzanine balcony, I enjoyed a trio of cheeses, with crostini, grapes and figs – plus a McLaran Vale Shiraz 2Up, 2005, filled with berries and earth-tones. Incomparable ambience, nice food, for $21 – including bubbling water. When you go to New York, by all means visit the Met on a weekend evening. Lots of action, and fewer crowds.
It was, other than the trail mix, the cheapest meal I had in the City.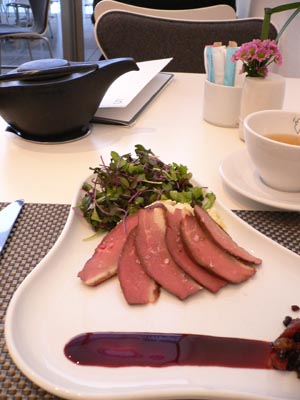 The Modern: MOMA, despite its hefty $20 admission, delivered the goods. The Jackson Pollack room alone is worth the twenty bucks. But then so were a few choice Diebenkorns and DeKoonings. I always visit the Terrace Cafe at MOMA, on the 5th floor. Seriously beautiful food, served in an austere white room (really smart, since your eyes need a break after feasting on all that modern art), and for reasonable prices.
My lunch consisted of sliced duck, fanned out on a salad of Yukon gold potatoes bathed in aged goat sheese and horse radish ($15). A fluff of infant cabbage spouts sat at the top of the plate. A slick of Port glaze went nicely with the duck — but then, they knew that — and a little mound of fruit that had been simmered in the Port sat on the side. Raisins, cranberries, sultanas, oh my. Conceptually perfect. Add a pot of herbal tea, absolutely right for the cold weather (the high that day was 24 degrees!), and you have heaven for twentysomething dollars.
Another night I dined at Lupa Osteria Romana — another one of Mario Batali's loud, exciting, to-die-for food palaces in Greenwich Village. Duck on a bed of braised escarole, perfect with a bottle of Aglianico del Vulture 2001, Rosso di Constanza (don't worry, I wasn't drinking alone. . . ), with a starter of poached octopus sauced with puree of chick pea and lemon. C'e delicioso! A cheese course of caprino, gorgonzola dolce and robiolo de due latte came with candied kumquat and prunes. Inspired.
At lunch the next day, I tried out The Bar at the Modern, one of those breathtakingly chic lunch spots that attracts people so well-dressed and so fantastic to look at that you want to scream. Understated to the max, the Bar features yes, a busy bar, plus a small dining area. Other than long room dividers of black faux leather, no decor. Oh, except for $5000 worth of tomato-red roses crammed into squares of crystal.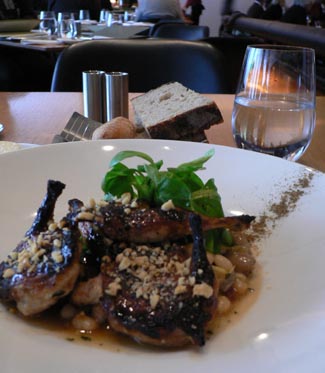 Great food, which I almost forgot to eat I was so absorbed in the sea of Prada all around me. I tried to get behind a glass of Merlot from Raphael, made from North Fork of Long Island, 2003 grapes. But the low alcohol, high tannin wine just refused to open. My lunch of walnut-glazed quail on a ragout of organic shell beans, shiitakes and applewood smoked bacon was choice ($16). Quail outstanding, beans not completely tender. A narrow dusting of coriander set off the flavors. Breads included celestial baguettes, fingerling size, which arrived with a large "coin" of unsalted butter, that had been dusted with sea salt. A glamorous little conceit, salting the unsalted butter. But hey, I wasn't in Kansas anymore.
And for dessert I tried something called a Caf̩ Noix, which turned out to be a cappuccino lightly dosed with pecan liqueur Рlike a refreshed version of an Irish coffee. It was served with an impeccable biscotto. That little lunch set me back around $40.