The Masters of Food & Wine, which has brought the most celebrated chefs and winemakers in the country together each February for a week of lunches, dinners, tastings and demos— is folding its designer tents after 21 years. At least it will no longer be held in the atmospheric Carmel highlands, according to current organizers.
Since I had attended the very first Masters, I decided to find closure in the form of lunch last week — prepared by Michel Richard (Citronelle, Washington DC), David Kinch (Manresa, Los Gatos), Cal Stamenov (Marinus, Carmel Valley) and Herve Fucho (Four Seasons, Punta Mita).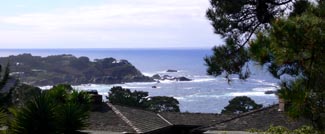 Sprawling out into the entire main lobby of the Highlands Inn (I know you know what it looks like but I couldn't resist reminding you), a dozen round tables — each seating ten — were set with a crystal acreage of stemware. An opening salvo of passed amuses included Veuve Clicquot gelée topped with kiwi and cucumer, and a sensational escargot tart — all by Keiko Takahashi of Mill Valley's El Paseo. The lunch moved into conceptual territory thanks to fabled French chef Michel Richard. We were served what appeared to be large bowls with a central mound of caviar. However, the "caviar" turned out to be Israeli cous cous bathed in black squid ink. This mildly flavored conceit covered a bed of "scrambled" scallops. The world's thinnest, crispest potato chip topped it off. Next came Fucho's course — very beautifully arranged – of seared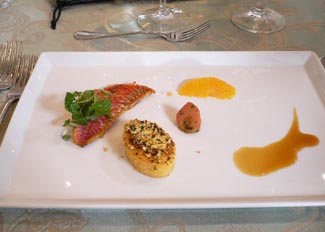 rouget and tiny islands of polenta, glazed pink beets, and orange sauce with a plume of lemon balm. Nice, but not sensational.
The main course was David Kinch's succulent slice of alabaster poularde (French hen),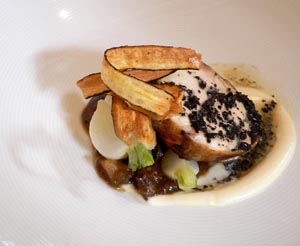 astride a pretty array of thumbnail white turnips, onions and tea-poached prunes. Dusted with truffles! Paired with a stylish pinot noir from Bergstrom Winery in the Willamette Valley of Oregon, it was a knock-out dish. Incidentally, Kinch has formed an alliance with Santa Cruz Mountains grower Cynthia Sandberg (Love Apple Farm), who now grows all the organic produce for Manresa's kitchen.
Also a knock-out was the pan-seared slice of crimson Wagyu beef rib-eye (see below), paired with a few choice infant veggies and black truffle vinaigrette. The beef, delicately, and intensely marbled and dusted with sea salt, redefined the whole point of red meat. (Check the industry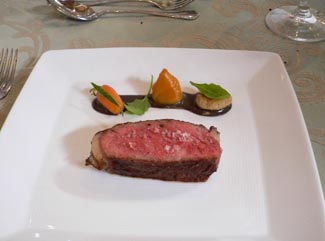 standard, Lobel's beef website for mouth-watering information. Unless you're a vegetarian.)
By this point in the meal, there was a lot of heavy breathing going on in the room. Marisa Churchill's (Top Chef) vanilla panna cotta — dusted with grated vanilla bean and accompanied by diced mango and basil, an opulent fresh mango sauce and a pistachio Florentine was so good it brought tears to my eyes. Illy Caffé finished off a meal worthy of the Masters. Next year, the ambitious food and wine gathering is rumored to be landing in Argentina! Can you say "gaucho"?