Judy Slattum, the thinking man's performance ethnographer and longtime Bali connoisseur, is at it again with "A Taste of Bali." Danu Tours, and co-sponsor Cabrillo College Culinary Arts program, have teamed up for the culinary odyssey in Bali this coming June. Spicing things up on the special tour will be India Joze cuisinartist Joseph Schultz, and Indonesian cooking expert Made Surya. Expect two and a half unforgettable weeks of truly exotic flavors, touring, sights, sounds and authentic Balinese foods – including betel nut sampling, rice wine making, and other things your mother didn't teach you. For details and full itinerary, please go to the Danu Tours website. Cabrillo culinary arts students can get credit for this globe-trotting course, which takes up to 20 participants to Bali from June 16 to July 6. An intensive forage through a beautiful island, with a team of experts. Sweet.
Michael Olson, host of Saturday morning's "The Food Chain" on KSCO AM1080, knows more than any five people you'd care to name about the eco-web of earth, people, animals and plants. When he's not doing his beyond interesting Saturday 9-10am interview show, Olson also hosts MetroFarm, an online magazine devoted to the curious corners of urban ag. But there's more! Now Olson has just come out with a book of important oral histories, called Tales from a Tin Can: USS Dale, in which 44 World War II sailors tell their personal stories about life and death on the destroyer USS Dale. Olson's Tales is out from Zenith Press. Look for it at your favorite bookstore.
Tom Vinolus and the Bittersweet Bistro staff, will host a five-course Cabrillo Music Festival fundraising Spring Feast — paired with great local wines. March 22, Thursday, at 6:30pm the event begins, with pourings from Ahlgren, Bonny Doon, Burrell School, Kathryn Kennedy and Storrs wineries. Since Vinolus is the dessert king, this lively affair should provide a sweet finish. Tickets are $125 per person (all inclusive) and it's already filling up. Make reservations by calling the Cabrillo Festival office at 831/426-6966, by March 16th! Do it now.

Charlie Hong Kong is my idea of a lunchtime bonanza. Here's my latest CHK confession: I stopped by for a carry-out lunch of Pad Thai noodles topped with Hoisin Pork — roughly $8, and we had three lunches each out of the glorious, tamarind-spiced creation. That's six dining experiences! Corner of Seabright and Soquel – open 11 to 11 daily. Get over there!
Regal Theaters (or whatever its called this week) ought to be ashamed. A "small" popcorn now costs $5.25 at Santa Cruz' downtown multi-plex. Give me a break! This is cruel and unusual punishment for popcorn lovers (me), and highway robbery any way you slice it. I know first-run movie houses are in trouble, but this is ridiculous. Having said that, I still maintain that nothing, absolutely nothing you can watch in the privacy of your own living room, can match the magic of the Big Screen. Movies are still the artform of our era. But from now on, I'll have to give up the pleasure of munching popcorn with my movie. Damn!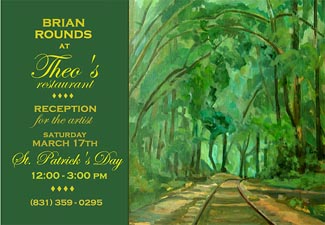 Brian Rounds is a plein air painter with a genuine feel for our neck of the woods. (That sounded like a Bruce Bratton line, don't you think?) Rounds will be on hand at the St. Patrick's Day reception for his atmospheric oil paintings at Theo's Restaurant in Soquel, March 17 from noon to 3pm. Stop by and soak up some local color in a landmark to the best that California Cuisine can offer.