At the Shadowbrook – yes, that Shadowbrook – last week, I had pizza so amazing that I found myself comparing it with the thin-crusted, sophisticated, completely addictive varieties I tasted in Rome. (Or, for that matter, at La Posta.)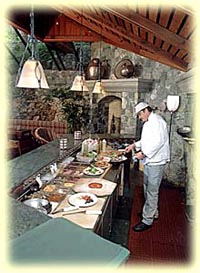 Shadowbrook may not be known for its pizza. But that needs to change right now. At the main landing of the restaurant, down the winding, landscapes hillside, take a left and enter the Rock Room. Substantial appetizers are the rule here, and that's where the pizza comes in. From the wood-fired oven comes a variety of satisfying $10 pizzas — perfect to share over drinks. The version I sampled last week featured a thin layer of pesto topped with toasted pinenuts, artichokes and grilled chicken, all on a feather-light, crisp crust. It has been a long time since I got this excited about pizza, but there it is!
The Rock Room feels good and it's very user-friendly hours start at 4pm every day – from 2:30pm on Sundays.