Opening this Friday at The Del Mar is an exhiliratingly odd and haunting underwater monster sci-fi thriller called The Host. The work of South Korean filmmaker Bong Joon-ho, this is an all-you-can-eat package of film genres crammed into a juicy two hour ride. A dysfunctional family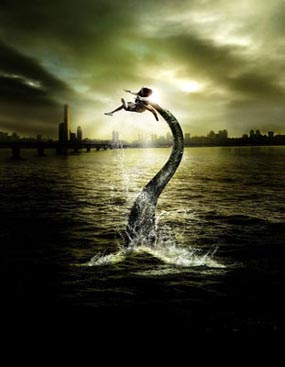 forms the centerpiece of what is sometimes an existential gloss on contemporary alienation, sometimes a delicious parody of Godzilla, Monster from the Black Lagoon and that grainy footage from Roswell. What starts off as a scream-fest when picnickers are attacked by a mutant monster-fish rising up out of Seoul's polluted Han River, quickly morphs into ironic comedy as we meet precocious Hyun-Seo, her slacker father Gang-Du (who runs a snack shop by the river with his father), plus Gang's brother — an unemployed university graduate and his sister, a champion archer. Relax, it's easy to understand when told by Joon-ho's uncanny, often poetic camerawork.
The film is stained a dozen shades of urban grey punctuated with the pop colors of Korea's youth culture, and everything turns suddenly alarming when the government puts the feckless family into quarantine. Terry Gilliam meets Art Bell in the juicy sub-text of government conspiracies and toxic waste. The plucky young heroine of this dark fairytale, is captured by the slimey, snarkey monster — shades of King Kong! — who keeps her captive in a dank sewer near the river. Through an inventive, engaging, yet frantic comedy of cell phones, the rest of the family stay in touch and race through the underground of the city to rescue the girl. Just as we settle into its rhythm, the caper abruptly twists into an elegy on loss and disconnection, aided by cinematography so elegant that it borders on the iconic. The view of the young archer, long hair wet and swirling around her damp exercise suit, rising up from a hiding place inside the huge girders of a bridge, breathtakingly references Botticelli's Venus, or Byrne-Jones' Lady of the Lake.
Filmmaker Joon-ho is having a delicious time messing with our sci-fi film expectations, blending terror and ennui, satire and screwball comedy, mythic archetypes with anime edge. Most of all the film is 100% unexpected in its snuffling and licking around the corners of our unspoken fears, playing on our "oh wow" sensibilities. The water imagery alone could spawn an Jung symposium. The preview audience I screened the film with, actually gasped at camera angles astonishing to the point of incomprehensibility. The beautiful ugliness of 21st century urban decay almost lulls us into cynicism once or twice when The Host seems to stall out. But it revives itself and ends on yet another surprising emotional flavor. Genre-busting eye-candy for the aficionado of pithy sci-fi, as well as cinematic daring. It took me into genuinely new and unexpected territory — no wonder the judges at Cannes loved Joon-ho's confident cinematic pranks. See this movie!