Great red wine for under $10: It's my new house red wine, the wittily-labelled 2004 Syrah, Domaine des Blagueur from Bonny Doon Vineyard, where every bottle comes with a witty label. Big, but not aggressive – full of fruit, yet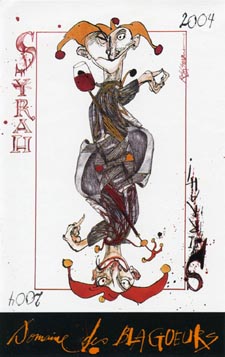 well-mannered as a partner for foods, and most of all delicious. This Syrah is loaded with insistent tones of cassis, pepper, licorice and a whiff of rust. A mineral back, if you will.
Ralph Steadman's label drawing of a joker with attitude says it all. Rustic sophistication, and despite the "here's blood-in-your eye" label, this wine is no joke. Thirteen percent alcohol makes it an easy rider with everything from roast pork to striped bass, and the screw-top cap makes it even easier to access. French grapes (from the Languedoc in SW France), BD finesse. Allez vites! and get yours!