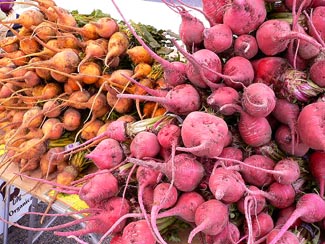 The Westside Farmers Market continues to win hearts, minds and taste buds at the foot of Western Drive every Saturday morning. I ran into farm fanatic and photo princess Tana Butler last week and we strolled around the stalls, talking collard greens and organic growing. And cute farmers. . . .
The gorgeous orange and pink beets from Route One Farms knock me out. And the pepper cress from Happy Boy Farms must be sampled to be believed. It will put a distinctive spin on your next salad. Fabulous tulips are on offer for astonishing prices from Dirty Girl, and those mighty H&H fishing folks are still well-stocked with wild seafoods. Ultra fresh. Which is the whole point behind the open-air, grower-direct farmers markets.
You've got one near your house — go there every week and watch spring turn to summer.