That would be the current sale of Truchard Syrah 2000 for $12.99. You heard me. A seven-year-old killer wine from Carneros, Napa's fabled domain of volcanic soil and deep terroir, for under thirteen dollars!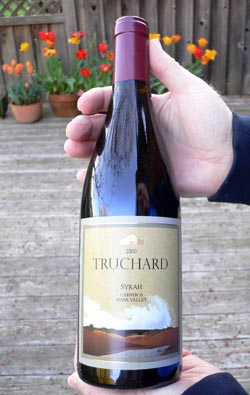 It's at Shoppers Corner right now (corner of Branciforte and Soquel for those out-of-town readers), and just so you know that I put my money where my mouth is, I just bought a case of the stuff myself.
Tony Truchard is a big, handsome Texan whose estate grapes used to fuel some of the top wineries in California. Then one day, oh about a dozen years ago, Truchard figured there was no reason why he shouldn't put his own name on his grapes. The result was a label that sits in front of some of the best, and usually priceyest wines around. That's why this $12.99 price is so astonishing.
Blackberries, leather, earth and minerals — this 13.9 alcohol winner can stand up to just about everything you've got. Go get some!