Lunch at Gabriella with Gayle Ortiz — of Gayle's Bakery & Rosticceria — satisfied my on-going cravings for loads of local gossip, plus fresh, seasonal culinartistry by chef/earth goddess Rebecca King. How was I to know that I'd find the best burger I've had in a decade? Take a look at this image!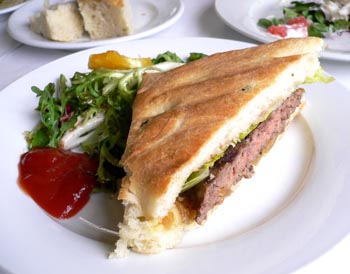 If you think it looks good, I gotta tell you it tasted ever better. Elegant and intensely satisfying. That is a super juicy, medium-rare grilled Kobe beef burger on fresh focaccia, topped with melted mozzarella, caramelized onions and mustard aioli. (The photo only shows my half of the burger.) Served with a small salad of deluxe greens, it was a bargain for $14. Gayle is nothing if not an adventurous diner — she confesses that she'll eat anything! – so we began our lunch at Gabriella with a split Dungeness crab salad, before sharing the burger. The salad was very pretty with pale green avocado and pink and red beets, on a bed of spicy watercress. But it proved a bit dry in the eating. The burger was terrific — it kissed up to all those burger cravings at once, and without any of the guilt. We called for ketchup and then stopped talking for entire minutes as we feasted on what has to be one of the best burgers in town. Any town.
Gabriella, still hosted by Paul Cocking and still a downtown dining must, is located at 910 Cedar Street in Santa Cruz (call 831/457-1677 for reservations).