We've been busy test-driving the new glut of designer chocolate bars popping up faster than wannabe fathers of little Daniellyn. We've been swilling the outrageous 60% cacao dark chocolate with orange from Chocolove for the past year. And it still rules. however, there are serious competitors out there — and I feel an obligation to taste (often) and bring back the results of my fieldwork for readers everywhere.
The Endangered Species folks have got a nifty little number consisted of dark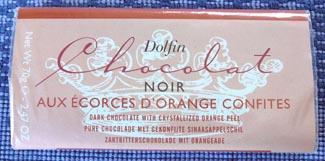 bittersweet chocolate laced with currents and hazelnuts that will do bouncy things to both your tastebuds and your endorphins. and I have always loved, and continue to love, the Lindt dark chocolate truffle bar in the thick, blue package. Okay, so it's sweeter than the classic, hardcore dark chocolate — but I admit I am deeply devoted to its combination of decadent mouthfeel (truly naughty) and sweet/bitter/chocolate synergy.
But here's our new find — Dolfin Chocolat: an incredibly packaged dark (noir, in French) chocolate smoothly inflected with crystallized orange peel from Belgium. At around $3.50, it's pricey, but so is, well, use your own lustful analogies…..There's not a trace of soapiness that often compromises very high cacao-content chocolates. Impeccable mouthfeel, intensely chocolate flavor and aroma, plus the bitter orange finish — seriously, this bar has it all. You can't walk across the street in California without tripping over some new, deeply flavorful, gorgeously packaged designer chocolate. So there's no need to suggest possible emporia. Just go on and get yours!
I'll be taste testing chocolates as a continuing feature of my column, and to help expand your own appreciation of chocolate terminology and tasting, please check out this excellent (and exhaustive) guide to chocolate terminology (another tip from my buddy Donna Blakemore who clearly has too much time on her hands. Or maybe it's just chocolate on her mind?)