As in Stokes Adobe, in old Monterey. From my seat in one of the many rooms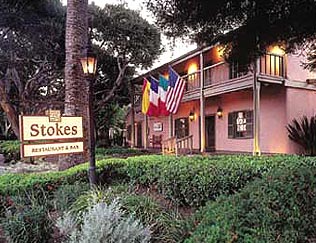 of this lumbering old adobe — each room with three-foot walls, each room with its own fireplace — I could spit on a half dozen of the oldest buildings in California. Those would be the original adobes that comprised what was for a brief period the anglo capitol of California. I've been to more than my fair share of dinners, wine-tastings and other special events in this architectural gem — the central staircase and interior balcony makes it feel like one of those stagecoach stops in an old Western movie. But more to the point last week was the fact that Stokes is a very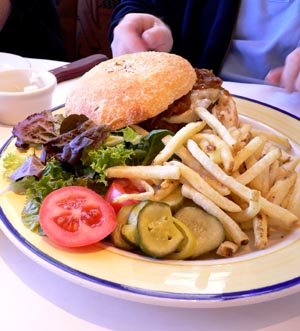 reliable contemporary stop for lunch, dinner or fashionable cocktails.
My companions had never visited Stokes, so they were, well, stoked over a menu that spans regional California specialties and stresses fresh, seasonal ingredients. Also, it looks like the Kobe beef burger is a hot new trend. Both the guys in our quartet jumped at the chance to grab a big burger — on soudough bun topped with crystals of sea salt — served along with a passle of fries and pretty salad.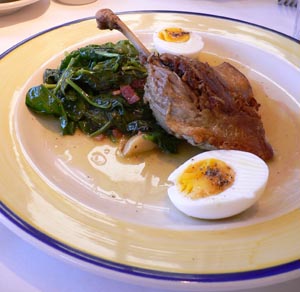 Mustard and ketchup arrived in their own designer serving trays. No matter how classy the joint, no burger should ever arrive without mustard and ketchup. My lunch of duck leg confit, with warm spinach and garlic vinaigrette, was voluptuous. Two softly boiled eggs, halved and topped with paprika, decorated the larger plate. All the food was beautiful, seriously tasty and served on soft linens by people who knew when to bring bread, butter, water, and when to remove dishes.
Anyone heading toward Monterey should add Stokes Adobe Restaurant to their dining list. It's large enough, with a large suite of dining rooms, that you can always get a table — no matter how busy the action. Just sitting in a slice of the old West is fun enough all by itself.