The Stokes Adobe, built somewhere in the 1840s, has always been one of the impressive old landmarks of Monterey's brief stint as Capitol of California. Not only are the 3-foot thick adobe walls still atmospherically intact, but the food – Stokes is also a restaurant — has never been better.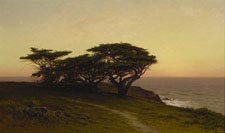 On a one-day holiday last week, we joined friends to view a few choice shows at Monterey Museum of Art, featuring masters of California landscape paintings, followed by lunch at Stokes Adobe Restaurant. (see next article)
I was deeply gratified to see how beautifully maintained the museum buildings were, one a landmark Mexican era adobe, La Mirada, and the other within the cluster of historic civic buildings that define old Monterey. It's rare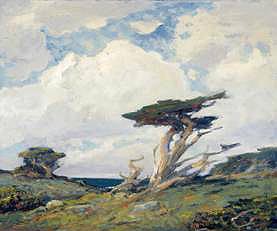 to be steeped in regional history while viewing outstanding genre paintings of the past 150 years. There's currently a substantial show of fine California masterworks, showing at the Monterey Museum of Art — the Pacific Avenue branch, located across from historic old Colton Hall — showing through April 29, entitled The Artists at Continent's End. Head down Highway One and enjoy the museum. Check the website for full details, but remember, it's closed Monday and Tuesday.