Thank God! After years of waiting for something more like the Westside's old Aldo's Cafe (brainchild of the original Sestri chef), our waiting is over. Bistro Al Mar specializes in tapas so authentically Old World we thought we were in Madrid last week, sharing a little teaser of fava beans and diced feta, washed down with Spanish white wine.
In the place of the former Xin noodle shop (841 Almar, at the end of the Almar Center strip), Bistro Al Mar has a lively menu wandering the Mediterranean waterfront from Marseilles and Nice, to Genoa and Barcelona. There are even a few North African dishes on offer.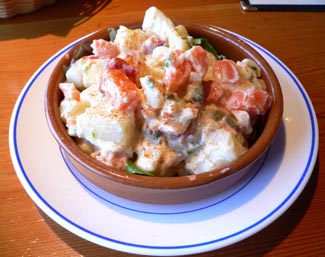 The place looks smart, with sensuous fedo and Catalan pop music in the background, and a simple long lace curtain adding privacy to the central dining room. Open for dinners Tuesday – Sunday, Al Mar is already attracting inquiring grazers who like the low prices and sexy menu. I also liked the service — smart and on-the-ball, our server offered to pour samples of wines when we weren't sure what we wanted. That's always a sound restaurant practice.
We began our small courses with a large plate of outstanding Catalan semi-dry garlic and pepper sausage "Fuet de Vic" ($7), and a $2 basket of "unlimited refills" focaccia. Yes, Al Mar has your number.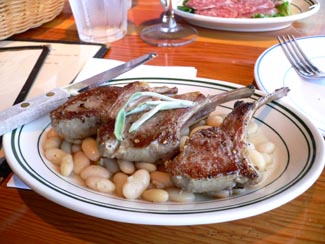 A country Rusa potato salad, mixed with peas, carrots, tuna, egg, red peppers and capers in an aioli dressing arrived in a glazed pottery ramikin ($7), and my trio of grilled baby lamb chaps, done rare — perfect lamb is always very pink, as far as I'm concerned — came on a generous sea of Tuscan white beans and topped with a fresh sprig of sage ($11). This was a knock-out! Joined by a glass of Ridge Three Valleys Zinfandel 2004, this was a meal to get out of bed for. You know what I mean.
We plan to work our way, slowly and with relish, through the entire Bistro Al Mar menu. See you there!