Exemplary Contemporary 2007: 'The Sea Around Us: Depictions and Imaginings.' Long title, but lots of great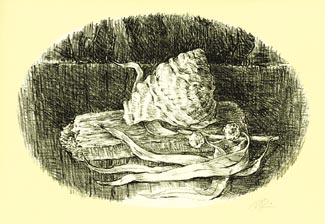 images fill this year's Exemp Contemp exhibition. Artists from UCSC and the Central Coast will show prints, sculpture, and painting all riffing on the theme of the sea. Included are works by Salal Moon Rinaldo (etching shown here), Brian Rounds, Tom Maderos, Cheryl Doering and many others. The show runs from April 15 – June 5, 2007, at the Smith Gallery, Cowell College, UCSC – with a chichi opening reception this Sunday, April 15 from 2-4pm.
Regular Gallery hours: Tues. – Sun., 11am – 5 pm
Free parking available on weekends.