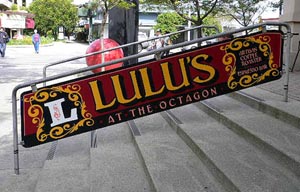 The coffeehouse is new – but the building isn't. That's Lulu's @ The Octagon, a sparkling new palace of caffeine sleekly tucked inside the 19th century Hall of Records building, corner of Front & Cooper Streets.
Already doing a brisk business with espresso-lovers and fans of exotic tea, Lulu O's is a clever pastiche of contemporary lines, and antique setting. Banquette seating lines six of the eight walls, and from the top of the dark wood wainscotting walls continue upwards in buttery yellow tones all the way up to the skylight in the center.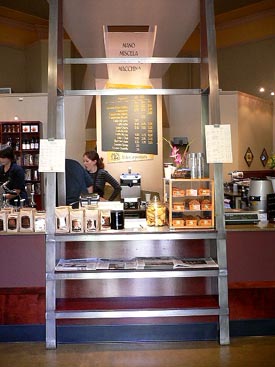 Under the skylight sits a central island surrounded by polished granite counters. Granite the color of café au lait. Open Sun-Thu 6am-8pm, and until 10pm on Fri & Sat, Santa Cruz' newest Lulu's has it goin' on. Besides, you can go from caffeine to wine, thanks to Vinocruz around the corner. Both pretty watering holes embrace the Museum of Art & History. You could plan your day around this particular corner of the world.