Vitiphiliacs and Bonny Doon Vineyards wine club members gathered at the winery last Saturday, for a dinner of rustic elegance wrapped around some sensational
wines. Convened by BD founder Randall Grahm, the dinner helped to introduce the latest oenologic from the irrepressible impresario du vin. Sure enough, the "David Bowie of wine" is reinventing his vintage dreamscape once again, only this time instead of a predictable expansion, Bonny Doon Vineyards is in the midst of a surgical down-sizing. Way down. Determined to return to the roots of his personal vision, Grahm is transitioning from mega-winery (450,000 cases last year), to a micro, hand-made, biodynamic, all-Santa Cruz Mountains estate facility. With the re-configuration of priorities, comes a new marketing strategist, Burke Owens, recently of Napa's Copia, and former sommelier at Masa's….But back to the dinner.
Randall explained to me over chilled Erbaluce di Caluso spumante and crisp baguettes topped with alderwood-smoked salmon that he was aggressively seeking new vineyard property in the Santa Cruz Mountains. And a renewed quest for terroir baby, terroir. And after years of making his reputation as a leading Rhône Ranger, thanks to BD's wildly successful Syrah, Grenache, Mourvedre and Roussane blends, Grahm is once again slouching toward Burgundy. "I really feel that pinot noir is something I want to try in a new way." So the focus is now intensified. Gone are the foreign grapes — "we're out of the importation biz" – gone is the Big House label. Everything from Bonny Doon will soon be made from Santa Cruz Mountains grapes. And the results will be on shelves in a few years.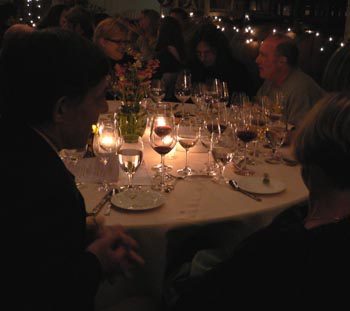 I can still taste those slices of mesquite-grilled spring lamb. Warm pita bread and tangy yogurt raita accompanied a first course of halibut ceviche on watercress. With this course came a graceful 1993 Le Sophiste Blanc, still full of estate Roussane and Viognier attitude.
Grilled in the winery parking lot (we are still in Santa Cruz. . . ), the spring lamb arrived sliced rare over Chadwick Garden green garlic and herb-roasted fingerling potatoes. A fresh, crunchy snap pea and radish relish almost stole the show from the red wines. Almost. Full of cassis and Szechuan pepper was a beautiful BD estate 1986 Claret — cabernet sauvignon cabernet franc, merlot and malbec. That's twenty-two years old. Just as wonderful was a pour of 2004 Le Pousseur Syrah. "Embarrassingly wonderful" was Owens' comment. So wonderful that I ran out and bought a few bottles the day after our dinner (see my current post about this wine).
A creamy tart topped with pistachios and dates was joined by two celestial dessert wines — a 1993 Muscat Canelli that almost brought tears to my eyes and a preview pour of 2006 Le Vol des Anges. The angelic new release is made from botrytis-powered Rousanne, and loaded with honeyed quince tones. Lovely stuff. The entire company gave a rousing applause to chef Forrest Cook, of Molino Creek Farms, whose commitment to local, organic and heirloom products gave the dinner its style and flavor alchemy.
No matter how idiosyncratic, even bohemian the leitmotif, all the moves at Bonny Doon Vineyards are sophisticated. The finesse was spot-on — and the company at our table, including New Jersey expatriots and academic connoisseurs, was just as tasty. Here's what you do – join up and become a wine club member. Then you too will be able to savor rare wines, appealing regional dishes and Grahm's choice comments, all surrounded by future award-winning wines slumbering in their vast nursery of French oak.