Downtown Santa Cruz' impossibly chic and appealing boite, Soif, continues to make us happy. Wine-wise, we've been having lots of fun with whites from Slovenia, and reds from Sicilia. Food-wise, the Soif kitchen — under the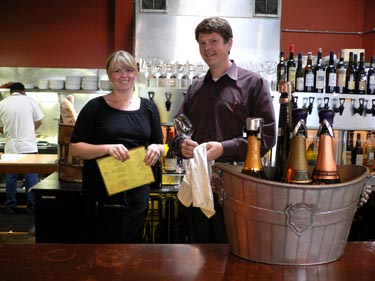 guidance of chef Chris Avila — references the season with a luscious roasted cauliflower gratin that is downright irresistible. Small plates of those sensuous fresh sardines, boquerones— on a thick slab of aioli-topped crostini, make magic with glasses of anything involved the syrah grape. Ditto the crostini topped with sauteed arugula. A substantial appetizer of super-sized sea scallops on a bed of that amazing cauliflower, kept us company last week as we sampled our way through some excellent red wines.
Soif host, Hugh Weiler sets the tone (pictured above with server Ceci Coon, who like all the house staff, manages to be sensitive, charming and informed – all at once).