Despite my motto, "The East has ceased," it was a delicate springtime that greeted me in Pennsylvania and New Jersey last week. Dogwood in bloom, azaleas purple through the tracery of pale green just beginning to burst into sight – really lovely. That's the grey-green Atlantic Ocean you see on my masthead this week. And there was terrific food and some memorable museum-going. But it's nice to be home.
Fans of the bizarre and medically wierd will definitely want to visit Philadelphia's venerable Mutter Museum. Founded as part of the august College of Physicians
by close personal friends of Ben Franklin's several hundred years ago, the extraordinary teaching museum has been updated and expanded over the years. Today the collection of medical oddities, mostly housed in an old Victorian library lined with glass display cases, still packs a macabre punch. Yes, two-headed babies, mesmerizingly grotesque skeletals remains, and all that, but the museum is especially strong in its collection of rare and antique surgical implements. Makes me wonder how any of our ancestors survived! And if as a kid, like me, you were fascinated by Eng and Chang, the original Siamese twins, you'll find much here to satisfy your curiosity. Claudia and I absorbed as much as we could before heading off for lunch. That evening, we sampled the new Susanna Foo dining room in Radner.
For years a legend in Center City Philadelphia, French-Chinese culinary fusion artist Susanna Foo opened a spacious restaurant on the Main Line late last year. Susanna Foo Gourmet Kitchen might sound homey, but it looked pretty glamorous to me last week as I looked forward to a few choice morsels of the dim sum for which Foo is justly famed.
Jack wanted the well-endowed Big Eye Tuna Sashimi Platter (see below), which was essentially a sparkling fresh line-up of ahi done five ways – spicy tuna maki, sashimi, seared, in a nigiri sushi and as a piquant tartare.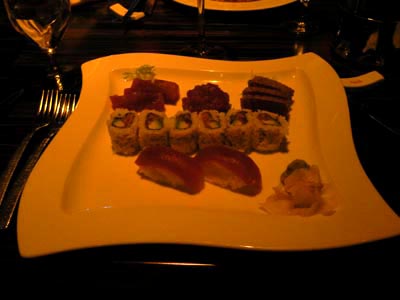 I was swept away by a bowl of authentic and very spicy ma po tofu loaded with cloud ear, tomatoes, silky tofu and jalapeños. Then we all feasted on various handcrafted dumplings, served with several soy, sake, ginger and garlic-intensive sauces. Tiny bite-sized pork "raviolis" filled one platter, and a sampler of classic pork pot stickers, mushroom-chicken dumplings and various pan-fried shrimp and veggie pot stickers absolutely filled us up. The pork variety I found most satisfying. Wow, I wish we had some to-die-for pot sticker sampler platters in Santa Cruz.