If you've never indulged in the exquisite sensory array of one of the "Outstanding in the Field" farm dinners, you have missed something wonderful. Imagine dining at a long, linen-draped table, placed out in the open next to a swath of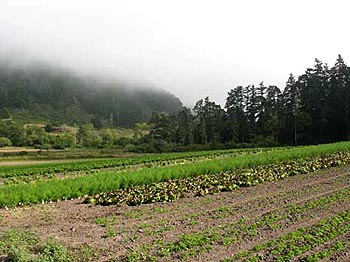 atmospheric fields. Now add a variety of local wines, complete with local winemaker to discuss them — add five courses, each one paired to a wine, and to the season. Each course prepared on site, with chatty tasting notes from the chef. Complete the picture with 60 or so vivacious fellow diners, each one of them as seduced by the beautiful setting and the robust flavors as you are – and you have something close to the picture.
On July 1, this long, leisurely, utterly memorable moveable feast unfurls at Route One Farms, just north of Santa Cruz (seen above in the photo by earth entrepreneuse Tana Butler). Foods prepared by the expert hands of Oswald chef Damani Thomas will be matched by wines from Zayante Vineyards, presented by winemaker Kathleen Starkey. Your farm host for the afternoon will be Jeff Larkey, and a tour of the fertile fields is included in the $150 per person price. The event begins at 4pm, with wine, munchies and the start of the tour. This summer is the time to treat yourself to the ultimate experience in fresh, fresh, fresh flavors. How fresh? Well, you will be literally dining in the very fields that produced your salad. That's how fresh.
For the complete 2007 Season schedule of al fresco dinners, go to the "Outstanding in the Field" website and make plans! These matchless multi-course culinary odysseys sell out quick – so get moving!