It was my friend Mateo who came up with the perfect description for this fine young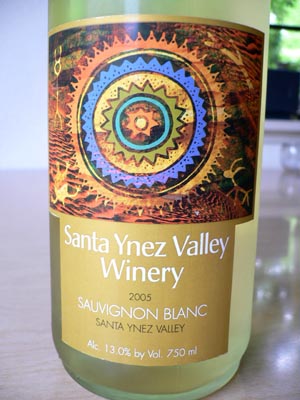 Sauvignon Blanc. "It's the perfect summer gardening wine!" And it is (though let me take a minute to acknowledge the only-in-California phrasing of that line.) He referred to the Santa Ynez Valley Winery Sauvignon Blanc with the colorful label – vintage 2005 – 13 % alcohol, and moderately packed with fruit and nuts. I'll be more specific. We found a cantaloupe and citrus opening, with a hint of jalapeño smoke in the center and a walnut finish. It tastes as interesting, but not as multi-media, as that description indicates.
Here's the most interesting part. The $6 price tag. Available at Trader Joes, the wine is inexpensive enough to play a starring role in your next outdoor picnic, bbq or garden party. You have been advised.