This year's New Music Works Avant Garden Party is seasoned – both musically and culinarily –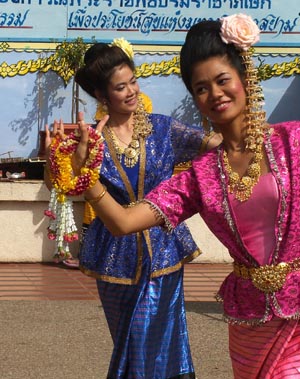 with the complex spices of Thailand. This Sunday, June 3 from 3-7pm, the mysteriously tropical island and lagoon located in a mythic corner up the upper yacht harber, will host a rare and beautiful display of Thai Piphat Music and Dance by the ensemble of Wat Buddhanusorn, the brilliant a capella work of the Ariose singers directed by Michael McGushin, a world premier of interactive installation Ttitriadic Chimes, songs by Paul Hindemith and compositions by NMW founder Philip Collins.
But for the hungry and thirsty, just know that your $35 adv/$40 door ticket price also gets you tipples from an array of wines, beers and exotic beverages – plus the al fresco Southeast Asian delicacies from the woks of Jozseph Schultz and David Jackman.
The theme for this year's NMW afternoon on the lawn is "Thai Getaway to Ellis Island" – the party takes place at Ellis Island: 2888 Sandy Lane, Santa Cruz – and from the over-spiced mind of master chef Schultz will spring dishes like Green Papaya Salad, Thai Chicken Lemongrass and Kaffir Lime salad, fresh calamari wok'd in holy basil glaze, shrimp chips with nam prik spicy dip, marinated trip-tip in chili-lime-herb glaze, marinated tofu and babay bok choy, banana fritters and more. Chocolate afiocionado Jackman will do his culinary thing with some exotic chicken dishes, coconut lemongrass scallops, coconut truffles in bittersweet chocolate and there should be ample hot and spicy delicacies to thrill your tastebuds.
The chance to check out Eric Thiermann's personal eden – and all that sensuous live music – will add to what will be the hottest ticket of the season. That's this Sunday, June 3!
Advance ticket sales: call (831) 423-8597
Streetlight Records (421 9200) or Santa Cruz Civic Auditorium Box Office (420 5260), and for complete details call 831/425-3526 or check the NMW site.