Come up and see what talent, hard work, great instructors and an Irwin scholarship, can create. The annual Irwin Scholarship exhibition – opening Wednesday, May 30, 5-7pm at UCSC's Sesnon Gallery — is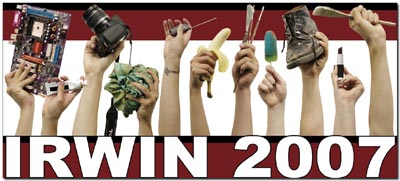 entirely packed with some of the best from some of the brightest. This year's scholarship recipients — Michael Allison, Nicola Buffa, Katie Dorame, Kevin Dwyer, Adam Harms, Ian Paul, Henry Plant, Sean-Michael Rau, Maria Schoettler, Augustus Thompson, Olivia Vegh — are painters, photographers, installations artists, sculptors, printmakers, whose creativity has been helped by the support of the William Hyde and Susan Benteen Irwin Scholarship Fund.
Juicy artwork, a free public reception, what's not to like? The gallery is located at Porter College, and is open Tues-Sat, noon to 5pm. For details, check the Sesnon website. See you on Wednesday.