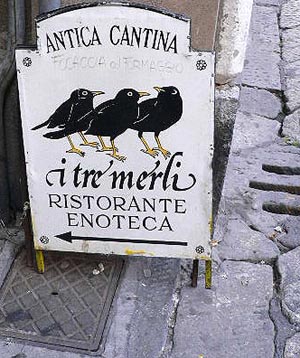 Frutti di mare – "fruit of the sea" – Italian really does have a zesty way of describing the world. Well, seafood – especially calamari, octopus and shrimps – was on every menu I found during my trip to Genoa and the Italian Riviera last week. The first night, I staked out my local enoteca, I Tre Merli ("the three blackbirds") and in addition to several fine meals on my own, I brought new friends from the International Dickens Conference there to sample robust Barberas and feast on prosciutto, seafood-stuffed ravioli, focaccia stuffed with melted cheese, pesto and the regional specialty, tissue-thin lasagna sauced with a supple puree of chestnuts and pesto. Outrageous. And all served inside a 16th century room with 20 foot vaulted ceilings. This is not precious cuisine, it is seaside cucina rustica with hints of nearby Sardinia, Sicily and Morocco in the spicing. Mint, saffron and nuts found their way into many of the dishes I tried — but I couldn't get a bad, or even a mediocre meal, even at little hole-in-the-wall tavole calda.
The salumi and pescattoria shops, where cured meats and fresh seafood were sold to housewives and chefs, looked exactly like sets from a Fellini film.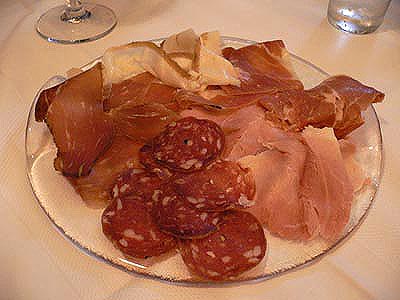 At I Tre Merli I feasted one noon on a plate of salume mista, organized by my waiter, so that I could sample the house specialties. In addition to notably un-greasy salame, the plate was laden with Parma ham, wild boar prosciutto, duck prosciutto and cured hog's belly. The latter was exactly like a slice of delicious bacon with a thick sleeve of fat. Admittedly not a vegan dish, it was heavenly with a salad of arugula and a glass of Barbera d'Alba.