It's been over a week since I left the jungles of Heathrow for the sanctuary of San
Francisco. And I still find myself thinking about the ease of dining on the Italian Riviera. Genoa might not register much more than a blip on the world culinary radar, but it easily provided a week's worth of interesting dining, impeccably maintained palaces and atmospheric walking tours on extreme cobblestones.
On the right, is a typical, yet astonishing, pizza and focaccia shop whose secret weapon just might be this charming young proprietor, named Andrea.
Each day in Genoa, I made my way up Via Garibaldi — lined with world heritage palazzi and museums — to a day of conference papers at the University. Via Garibaldi is exclusively for pedestrians these days, though in Christopher Columbus' time it was one of the main routes through town, linked to the busy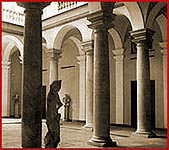 harbor by a twisted warren of alleys called caruggi. Today these alleys are bristling with a colorful and dangerous demimonde of hookers, toughs and the desperate, if laid-back, disenfranchised from Africa, Morocco, Sardinia and Albania. Seriously off-limits to tourists after dark, this area was rife with back-alley sexual negotiations and countless drug deals. Once visitors get the hang of where not to wander, Genoa offers a lot to like. And never are you very far from the influence of the Mediterranean.
The largest port in Italy, Genoa is loaded with state-of-the-art industrial warehousing, container cargo loading and dockside action. Seafood stalls line part of the old waterfront, where the largest aquarium in Europe draws sight-seers from all over Italy. Since I live on the Monterey Bay — home to its own superb aquarium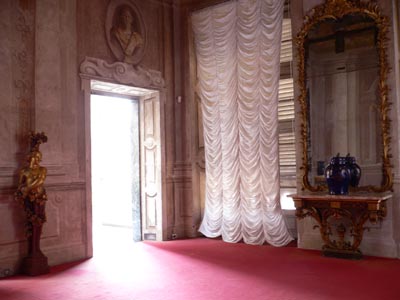 — I passed on that tourist attraction, and managed to check out four or five terrific cathedrals, four major museums, guided tours of opulent homes of the formerly wealthy — the Italians love to provide staff-intensive museum tours, including the Palazzo Rosso seen here — and countless cafés for bracing cups of caffé macchiato. A legal high for roughly $3, this espresso helps get you through the long, humid afternoons until the appropriate 8:30pm dinner hour.
My favorite lunch place was I Tre Merli, home of hundreds of wines available by the glass, interesting specials of freshly-made pastas and some intriguing seafood. The seafood ravioli were small and tender, and an appetizer of paper-thin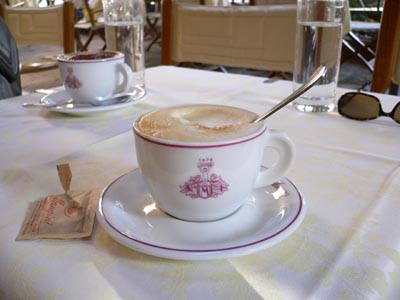 "paté" of octopus, tomatoes and green olives in aspic was almost too good to be true! Tucked into the cavernous interior of a 16th century stable, this cantina/enoteca offered splendid pesto and Italian attitude. I might have spent every meal there if I hadn't known to give the stately Zeffirino a try.