A few weeks ago I joined two vivacious residents of Rome (one from the US, the other originally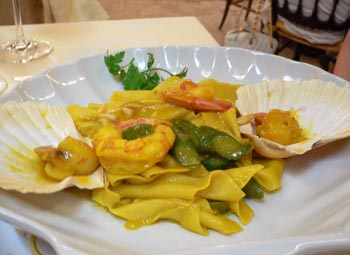 from Canada) for a meal of stellar regional cuisine and old-fashioned, unapologetically attentive service at Zeffirino, a celebrated Genoa dining room since 1939. Utterly non-designer in decor, busily adorned with candelabra and quaint genre paintings, and complete with waiters in dark suits who expertly arrange each serving at the table, Zeffirino lived up to its advance hype as providing definitive Mediterranean seafood. This appetizer of paper-thin lasagne, sauced with saffron-tinged pesto, with scallops in their shells, asparagus and a few prawns, was a knock-out.
It was all beautiful to look at and prepared with restraint. Giant prawns, gamberoni, lightly inflected with saffron, and topped alla Cinqueterre, with thin ribbons of candied lemon peel, were sweet and tender. Another deeply satisfying entree involved fresh lobster, removed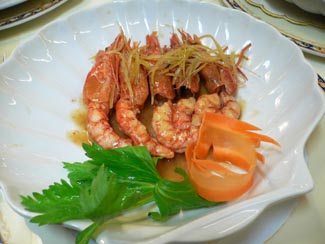 from its shell, brilliantly spiced in salsa diavola, and then returned to to the shell, to form a gorgeous terracotta creation. Two regional house wines easily paced the clear flavors of the meal, which began with a stupendous primo of Genoa's gift to the culinary world — triofie al pesto. (see post below). Here the pesto is made from infant leaves of Genovese basil, which preserves a minty sparkle rather than the rather strident, licoricey tendencies of "mature" basil. "This is what pesto should be!," pronounced one of my companions, a Rome correspondent for Newsweek. She and my other dining partner spent a good part of the next hour strategizing about where they could find such amazing basil in Rome.
Each dish was presented with flair, including a decent selection of Italian and French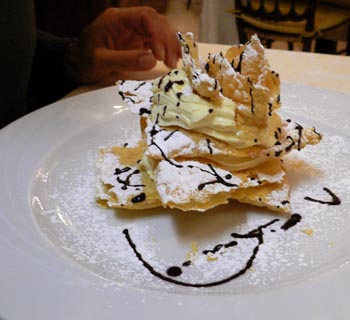 cheeses, and a mascarpone pastry that could have brought a tear to the Pope's eyes. A free-form tiramisu that had been penetrated here and there with ethereally light, crisp tuiles and drizzled with very good dark chocolate. Then came espressos, and a trio of grappas. "Soft, sweet, or dry?" our waiter asked. We had all three, of course. The stroll back to the hotel was effortless. When in Genoa, Zeffirino, is a must. Despite the flimsy chairs and the too-bright lighting, the food is terrific. (I would refer you to the Zeffirino website, but it is too Kafkaesque for any reasonable negotiation.)