Sean Baker, wunderkind chef at Gabriella, has been joined by new pastry chef Jessica Yarr (former sous chef at Theo's) for what can only be called a culinary summer of love. Baker,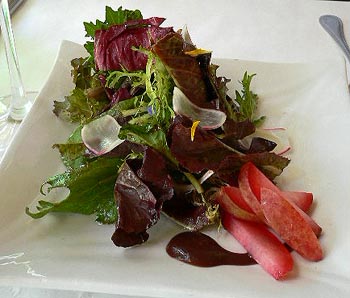 who you'll recall is a Cordon Bleu grad, formerly of Zibibbo in Palo Alto and Millennium in SF, is busy rocking the menu at Santa Cruz' jewelbox bistro. Only the fresh, and only the local show up on Baker's restless menus.
Last week Matteo and I feasted on lunchtime halibut confit and freshly-shelled cannellini beans, ringed with Black Cherry tomatoes and inflected with basil and Dijon hazelnut dressing. Then came an amazing salad of greens so vibrant they practically talked back, bathed in a Syrah basil vinaigrette with slices of incredible ripe plums and tissue-thin slices of icicle radish (see above). Our main course was fresh pan-roasted rainbow trout, stuffed with lemons and thyme, served whole to preserve its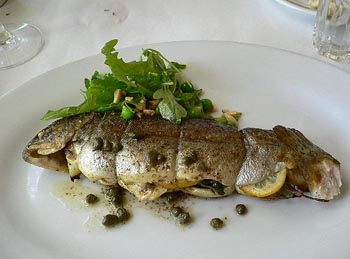 beautiful shape, with a side of infant arugula and toasted almonds. Everything was strewn with pungent capers and rich browned butter. . . A few days earlier, my mother and I had lunched at Gabriella and sampled the amazing paté sampler from charcuterie maestro Justin Severino — sensuous rillettes packed with Meyer lemon and capers, campagnola paté loaded with herbs and a rustic ciccioli. A preserved apricot played counterpoint with the organic pork creations. My mom — a Boulder Creek native, now living in San Diego — also had a great time with Baker's latest pasta creation, a swirl of black hand-cut spaghetti, tossed with heirloom tomatoes, garlic, slices of tiny, tender squid and fat English peas from Half Moon Bay. I gotta say, Gabriella's kitchen has laid on some serious firepower.
The food at Gabriella was always ultra-fresh, seasonal and local. Now it's sophisticated as well. Not tricky. Not so conceptual that you have to sit back and have a Socratic dialogue every two seconds about the herbs, or the pedigree of the tomatoes. Let's just say that chef Baker has eyes in the back of his head. If it's just been picked, he's on it. Impressive.