Of course we all know Ca' del Solo, the amusing line of vins ordinaire created by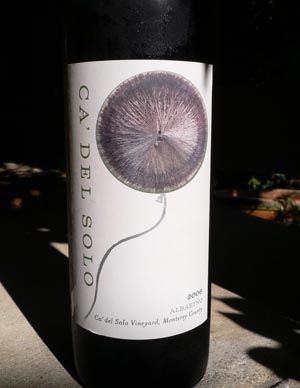 the feverish mind of über-winemaker Randall Grahm of Bonny Doon Vineyards. But forget about what you thought you knew. BD has gone bio-dynamic. That's right. The Rudolph Steiner proto-ecology about planting naturally, meticulously, with special minerals, herbs, manures and using astrological help whenever it seems appropriate — that bio-dynamic.
Well the 2006 Ca' del Solo, Albariño, is the first of BD's bio-dynamic beauties, grown, nurtured and harvested in the Monterey County acres that have been cultivated very, very carefully. The results are striking, if restrained. We liked the ultra-light alcohol — at 12.5% you can sip this for breakfast — and the salty, citrusy body of this perfect-for-summer white wine. Think roughly $13. Another pioneering effort by an unapologetic pioneer.