The Santa Cruz Mountains Commercial Wine Competition for 2007 awarded its medals once again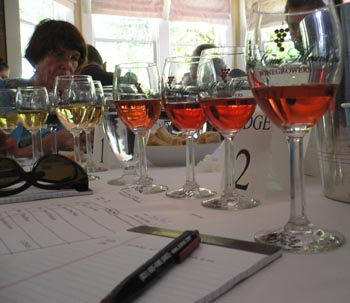 — thanks to the hard work of 50 judges sampling a field of 171 wines from 34 of our premium wineries. This definitely comes under the "hard work, but somebody's gotta do it" heading. And once again, I didn't mind helping out by sampling some truly fine red wines.
Along with wine buyers, restaurateurs, sommeliers and other experts, I spent the better part of last Monday in the spacious main dining room of Ma Maison restaurant, working through a four-hour tasting managed by John and Karen Hibble of the SCMWA & Aptos Chamber. And as usual I learned a lot from the assembled experts, including the highly knowledgeable Aaron Brandt from Bittersweet Bistro, former Wine Club buyer Anita Sjoberg, CAVA wine bar's Cliff Livingston and Theo's owner Roger Romano.
For the record, this is hard work. Sniffing, tasting, spitting – over and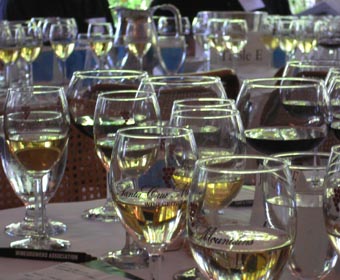 over again, through at least five flights of six wines each. Helped along with lots of bread and long breaks after every flight, somehow we managed to get through it with palates intact. The photo at right gives you an idea of the sea of glasses confronting us at any given moment. I was judging red wines and that means a temporary case of purple teeth and gums.
The field this year was packed with more terrific wines than I can remember at this annual competition, and most memorable were the outstanding red wines, notably the zinfandels cabs and the mixed blends. Ma Maison chef/owner Lionel LeMorvan provided terrific appetizers for the judges as well as a splendid lunch afterwards of moussaka, custom-carved roast pork, heirloom tomato salad, squash and feta ravioli, many other dishes and a sensational chocolate mousse dessert that knocked me out. Here was chocolate — rich, creamy, light yet as packed with barely-sweet chocolate — to redefine the whole idea of chocolate.
Here's the complete list of Gold Medal Winners – 2007. You might want to print out this list and go shopping!
* Picchetti Winery, 2004 Cabernet Sauvignon, Santa Cruz Mountains Best Of Show, Best of Santa Cruz Moutains Reds
* Hallcrest Vineyards, 2004 Pinot Noir, Santa Cruz Mountains, Belle Farms Vineyard
* Woodside Vineyards, 2004 Zinfandel, Santa Cruz Mountains, Estate Vineyard
* Savannah Chanelle Vineyard, 2004 Zinfandel, Santa Cruz Mountains, Estate Vineyard
* Soquel Vineyards, 2004 Zinfandel, California Old Vine, Schmierer Vineyard
* Picchetti Winery, 2004 Vino Di Vicino, Santa Cruz Mountains, Leslie's Estate Vineyard
* Soquel Vineyards, 2004 Cabernet Sauvignon, Santa Cruz Mountain, Partner's Reserve Vineyard
* Ahlgren Vineyards, 2003 Cabernet Sauvignon, Santa Cruz Mountains, Bates Ranch Vineyard
* Hallcrest Vineyards, 2003 Zinfandel, Lake County, Nova Vineyards
* Martin Ranch Winery, 2004 Syrah, Santa Clara Valley
* Bargetto Winery, 2003 Merlot Reserve, Santa Cruz Mountains, Regan Vineyards