UCSC Farm & Garden's Annual Fall Plant Sale — next weekend! — offers gardeners a major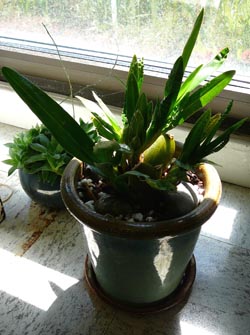 selection of organically raised vegetable seedlings, perennials, and California natives. Sponsored by the Center for Agroecology & Sustainable Food Systems, the sale takes place on Friday and Saturday, September 7 and 8. The sale will be open from noon to 6 p.m. on Friday, and from 10 a.m. to 2 p.m. on Saturday, in the Barn Theater parking lot at the intersection of Bay and High Streets in Santa Cruz. (My orchid, Cassandra, posed for this quickie image.)
"Fall is a great time to plant fast-growing greens and other vegetable crops for late fall and winter harvest," says UCSC Garden manager Christof Bernau. This year's offerings include spinach, kale, lettuce and salad mixes, chard, collards, kale, and leaks, along with broccoli, and cabbage. Annual flowers available this year include sweet peas, larkspur, bachelor buttons, nigella, statice, stock and mignotte, which can be planted in the fall for late winter and spring blooms.The Farm & Garden's plant sale is one of the largest all-organic events of its kind in the Monterey Bay Area. All of the flower and vegetable starts were propagated using organic methods. No chemical fertilizers, pesticides, or herbicides were used in growing the plants from seed. None of the hardwood cuttings were given artificial growth hormones.
In addition to winter vegetables and culinary herbs, the sale will feature perennial flowers and shrubs. Some favorites from this fall's collection include Angelica stricta purpurea, a striking purple-tinged plant much loved by butterflies; Verbascum 'Arctic Summer', a drought-tolerant native of Greece, with tall, white fleecy stems bearing bright yellow flowers; Correa 'Carmine Bells', an Australian perennial with dusky rose tubular flowers that bloom November to April; and from the Channel Islands, the California native Ribes viburnifolium, an evergreen shrub with pendulous clusters of white flowers.
The sale will benefit the UCSC Farm & Garden Apprenticeship, a six-month training course in organic farming and gardening. Members of the Friends of the UCSC Farm & Garden receive a 10 percent discount on purchases; memberships will be available at the sale. For more information about the Fall Plant Sale or the Friends of the Farm & Garden, call (831) 459-3240, send email to jonitann@ucsc.edu, or see the website.