Just returned from lunch at the new Batik Cafe – and while I had a few issues,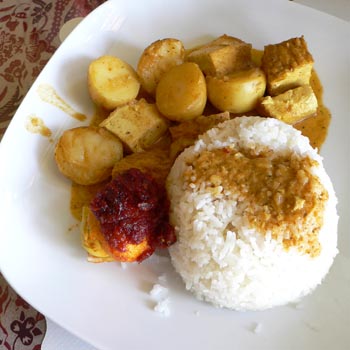 the cafe is only a few weeks old so there's lots of time for fine-tuning. Sabrina – an Indonesian cuisine veteran- and I worked our way through several plates of traditional items involving potatoes, tofu, bean sprouts, noodles, hard-boiled eggs and outstanding rice. Sabrina's giant glass of Sumatran coffee was spiced with fresh ginger – seriously excellent. My tall cool glass of Batavia Blend was a very very sweet concoction of cranberry, orange and rosewater. A plate of yellow curry with potatoes and tofu, called Kari Tahu was delicious – the curry a well-balanced blend of spice and heat. Another specialty called Telor Balado involved a sauteed hard-boiled egg topped with a chili sauce of shallots, peppers and tomatoes. Also good. We also sampled the tomatoey fried potatoes (necessitating Tums later) with rice. Not hot enough!
An order of Gado-Gado however separated me (and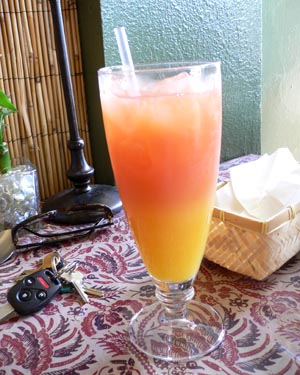 Sabrina too) from native Indonesians. Heavy, sweet, and heavy, the peanut-based sauce made me long for the second coming of India Joze. It topped an acreage of mung beans, a few noodles devoid of flavor and more of the tepid tofu and a few rogue potatoes and green beans. Not enjoyable, mostly due to the sheer redundancy and blandness. Two Tums.
The restaurant is very pretty, filled with gamelan musical ambience and run by very friendly people. Still in its infancy, Batik Cafe will doubtless offer a wider range of flavor options as time goes on. I'm thinking that the dinner menu has got to offer more variety. At lunch, you're looking at either the tofu-potato domain, or the world of chicken (which we didn't visit). I'll get back to you after another visit, which will happen after a few months of creative tightening have passed.
Batik Cafe – 1209 Soquel Avenue, open every day except Monday for lunch & dinner.