Giovanni's back, and Star Bene's got him! The chef/owner of the former Caffe Bella Napoli is now the starring attraction at the cozy (and hard to find) E. Cliff Drive dining room, where Ceil and I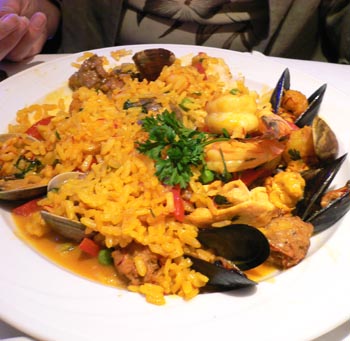 feasted last night. We started with excellent focaccia to dredge through a trio of seasoned olive oils — oil infused with eggplant, kalamata olives and sundried tomatoes. Absolutely delicious. Next we split a simple green salad — all the while swilling some great wines, a Chardonnay from Storrs (hers) and an outrageous Ahlgren Cabernet 2003 (mine). Our entrees dazzled. Ceil ordered an unusual evening special of traditional paella. Now Ceil is picky when it comes to this complex Spanish dish — she even claims to make it herself on special occasions. Chef DiMaio's version was lavish with saffron, and loaded with fresh, steaming seafoods — calamari, shrimps, mussels, clams — Italian sausage, peas, red bell peppers and chicken. It was nothing short of great. Would that this were an item on Star Bene's regular dinner menu.
My entree of free-range veal scalloppini was done — as I requested — piccata style, with lemon, garlic and handfuls of capers. Served with pretty roasted potatoes and a mix of green filet beans and jullienned carrots, it was the next best thing to being in Italy!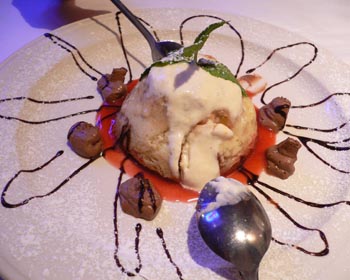 Our shared dessert at Star Bene was a charming rum-infused pudding — a budino — topped with bits of candied citron, ringed with strawberry puree, dotted with puffs of chocolate mousse and drizzled with dark chocolate sauce. That combination of cream, liqueur, fruit and chocolate is reminiscent of the charming pastiche of flavors in spumoni ice cream. We made very short work of the budino, helped along by excellent espresso.
Star Bene is once again a star, from its charming interior to its gifted Neopolitan chef, Giovanni DiMaio. Service is excellent. If only the restaurant sign were more visible from the street — it's tucked between a salon and the old Buckhardt's windmill.
Star Bene – 21245 East Cliff Drive, Santa Cruz – 479-4307. Italian specialties, beyond benissimo.