Black Mission figs are given new glory in a fabulous end-of-summer dessert from the feverish mind of chef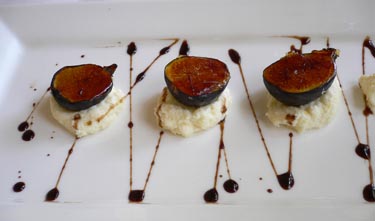 Sean Baker. You may need to sit down for this.
Four pillows of lemon and cardoon-honey-laced mascarpone were each topped with a ripe fig, sliced open to reveal the sensuous fruit (think D.H. Lawrence). The tops of each fig were glazed with a transparent burnt sugar topping. Scrawled along the huge rectangular platter was an intense reduction of saba, an Italian grape must digestif. As Sean put it, "it's so simple, and it's so complex." Here's how I put it: stupendously delicious.
You'll find this amazing creation at Gabriella Cafe. And for those of you who are tired of hearing me talk about Gabriella, this dessert is one of the reasons why I do! Show me a place doing anything near this quality anywhere around Santa Cruz – and I'll be thrilled to run right out and give it a try.