One of the best parts of travel is the walking — not only does it help to digest even the most generous meals, but on foot the details of a city seem to emerge from the shadows. The street furniture, ledges to sit on that the princes of Florence thought to include in their palazzi five centuries ago, or the countless sidewalk shrines and frescoes. Alleys that lead up into zigzag archways — Dante might have passed through them. Michelangelo and Leonardo almost certainly did.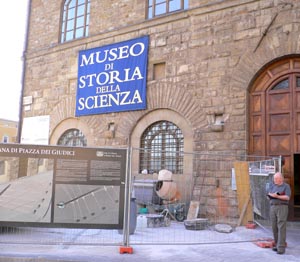 One place we wanted to visit was the city's Museum of History and Science — our destination was Galileo's telescope. We arrived only 40 minutes before closing time, but went in anyway and found ourselves dazzled by telescopes, microscopes and measuring devices of the Renaissance, and even earlier. Up on the second floor, looking for all the world like a long cardboard tube with pretty gold embossing, was Galileo's telescope. This simple device, containing a few strategically-placed lenses, allowed the courageous astronomer to discover the rings of Saturn, the moons of Jupiter, solar flares and evidence that the earth was not (gulp!) the center of the universe. You'll recall he got into trouble over that last bit.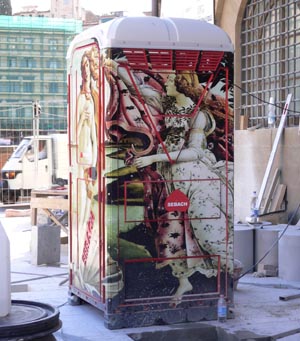 Here was the best part. In the glass case right next to his telescope, was Galileo's finger! Well, the finger bone of his middle finger, right hand, in a very ornate glass and gold reliquery. This was more than worth the $10 price of admission (which had probably grown to $12 by the time we left the building).
This portable toilet with Botticelli's Primavera on it cracked me up. Proof that marketing knows no bounds.
Instead of the little enoteca behind the Duomo — which unhappily closed up by 7pm — we stopped for dinner at a lively Sardinian place called TerraTerra. A waiter equally at home in English and French (for the table next to us), helped us navigate through an exciting world of cheeses and salumes and prosciuttos all bearing the unctuous flavors of the Mediterranean.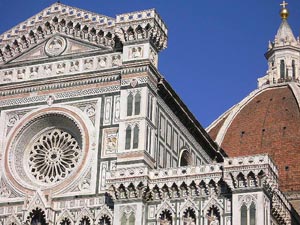 Even Sardinian wines were to be had — two reds, one made from a grape called Connauco, the other a grape called Monica. Both were big, bold, happy to drink wines and made the perfect partners with the glorious creamy, rich fiore Sardo cheese of Sardinia, marinated fresh porcinis, wild boar prosciutto, huge green olives, several salames (one quite hot), and a sampling of grilled peppers. Sensational dining for around $42 (for two, including wine).