If you haven't yet gotten the message that the Saturday morning Westside Farmers Market is THE happening place, then allow me to put you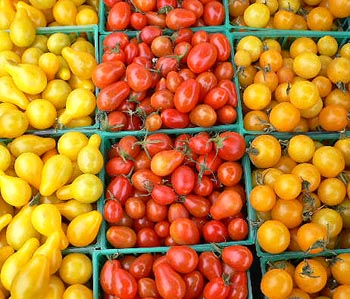 straight. Last weekend the market seemed to have doubled its size — harvest time has filled every one of the organic produce, fruit, flower, artisenal cheese, meat and wild seafood stands with an embarrassment of riches. Red, orange and yellow peppers, the very last of the sweet, intense dry-farmed tomatoes, grapes, beans, you know. Fabulous stuff.
Yes, I was told, this new market will continue every Saturday – 9-1 – throughout the year! Part of the fun of the whole age-old market concept is running into friends and neighbors. Also foodies. Kelly and Mark Sanchez were there with armloads of flowers, along with their lovely daughter Anya and her friend Brigette. Patrice Boyle from Soif and La Posta, wine wizard John Locke, Gabriella's Paul Cocking, and mayor Emily Reilly who swore she was going to take a phone picture of the market and send it to her brother in LA — she's trying to tempt him up here. The entire university seems to shop here as well, and a very buffed George Ow was spotted close to the River Cafe cheese display. The pleasures of living in a small community.