Don't even think about visiting a major world museum like the Uffizi without making advance reservations. The tickets I procured on-line (we have done this before, here and at the Louvre) saved us at least an hour, maybe more, in line. Even so there was a short wait — Italians adore mystery and often make no attempt to provide directions or signage – but once in, we were on task.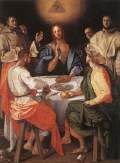 To the Mannerist room! which is down Vasari's splendid loggia corridor and one sala down from the Bronzino chamber. There we had several rooms all to ourselves and feasted on Pontormo, Rosso Fiorentino, Andrea del Sarto (who started up the entire eccentric colorwork and elongated bodies of Mannerism) past a few heart-stopping Michelangelos and on to the famous Parmagianino "Madonna of the long neck" that every art history student will recall. Revisiting favorite artworks is heady stuff — deeply rewarding and this time we noticed new details on Pontormo's haunting "Supper at Emmaus." Two cats peering out from under the tablecloth. More sketching in notebooks – too bad the Uffizi doesn't believe in providing benches. Well, except for in the Botticelli room.
I highly recommend stopping for coffee or a bit of pastry in the midst of all this visual dazzle. The Uffizi has a splendid cafe that opens out onto a rooftop garden. From here you can swill a bracing caffé macciatto with a slice of fragola torta and look out over the dome of the Duomo and the famous clocktower of the Palazzo Vecchio.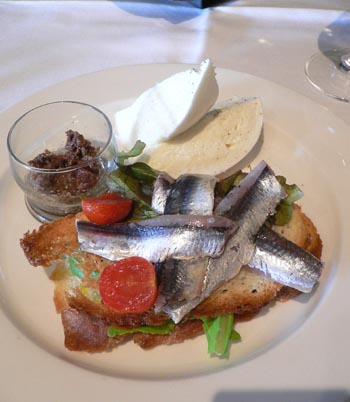 In the background are the purple hills (see my masthead image) that you'll recognize from Leonardo's paintings. Looks a whole lot like the Santa Cruz Mountains, only with better architecture. Thus refreshed, we headed down the other corridor of this utterly unique building, and paid our respects to the Portinari alterpiece, arguably among the most accomplished virtual worlds every created.
Then to Beccofino, across the river in the Oltrarno district, for lunch.
Beccofino was brand-new when we discovered it on a rainy afternoon five years ago. It was a sleek, contemporary wine bar with exciting food then – and it still is today. Our lunch began with fresh cured anchovies on crostini, with a vinegary caper tapenade, incredible tomatoes and milky buffalo mozzarella. Jack continued with an entree of baked rabbit and I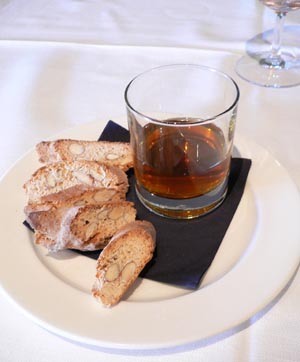 had house pasta with rabbit and wild celery ragu. Yes! Dessert was our first of many visitations to the Florentine classic finish – cantuccini (little songs) and vin santo. Sweet, rough wine and small, crunchy biscotti — a fine ending to robust flavors.