There are still a few things that justify enduring the slings and arrows of outrageous airport security checks, sitting for 10 and a half hours in a tiny, cramped seat, being rudely herded through the Frankfurt airport – and then getting into a smaller plane and sitting for two more hours.
Italy is one of them.
I spent last week in the perfect Mediterranean climate of Florence, where the Renaissance and its passionate architecture are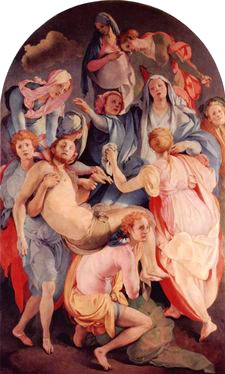 still alive and well. Dining is effortless here, even though the dollar went on its all-time plunge while we were in Euro-land. But the artwork was our real destination — and this visit was wrapped around an eccentric Mannerist painter named Pontormo, and a visit to his frescoes in cloister outside of town, up in the extreme Tuscan landscape dotted with vineyards.
Like many visitors who've already seen the obligatory sights, we let the days stretch out into more wandering, lingering and relaxing than in previous trips. Aiming toward a particular restaurant each day, we focused on a destination each morning and another in the afternoon, and tended to seek out cool corners of a cathedral, to draw in sketchbooks or take notes and let the 500-year-old ambience transport us to a time before the internet or expiration dates.
The first afternoon, for example, we let the cool opulence of San Lorenzo wash over us and our jet-lag, and then had a simple dinner of caprese and niçoise salads at the splendid Caffe Gilli on Piazza della Repubblica, where our hotel is located.
Next day we walked across the Santa Spiritu bridge – avoiding the tourist hordes on the Ponte Vecchio, which is prettier from a distance anyway – and spent a morning at the Pitti Palace. Out on the courtyard arcade, the Palace tea room serves distinctive pastries, sandwiches and espresso drinks. Somehow this lovely museum cafe is off the tourist radar, which means you can stretch and relax in peace.
On the way back across the Arno, we made a pilgrimage to Santa Felicita where Pontormo's unearthly Descent from the Cross is housed in a tiny side chapel designed by Brunelleschi. You put a euro in the little slot, the lights come on and suddenly you are inside the swirling vision of a genius who painted 450 years ago. (He was also Bronzino's mentor.) Dinner that night was at Nella, a very capable trattoria specializing in all the Florentine food groups we love — roasted rabbit, cannellini beans with olive oil, spinach and garlic, grilled veal chops with porcinis and raddichio. Robust cooking without any trickery. Besides it was the fresh porcini harvest and everywhere we found funghi on the menus.

Reality check: Firenze, as the locals call their incomparably beautiful city, is no backwater burg. It's a full of the hip, designer young ones — the entire place looks like a Hugo Boss ad with tour busses — whizzing around on motorinos and chattering on cellphones. Cinquecento palazzi with frescoes and leaded glass may contain video stores and leather boutiques. Gelato stands seem conveniently located exactly where you need them after mornings spent pounding the antique cobblestones.
Restaurants offered simpatico soundtracks – BB King at Beccofino (whose ladies room with illuminated glass floor is shown here), Dean Martin powered our lunch at Osteria Caffe Italiano, The Beatles in the background at TerraTerra, Janet Jackson at Caffe Nella and the Hare Krishna — live! — at the Piazza della Signoria where we swilled Negronis and watched sunset on the Palazzo Vecchio our last evening in town.
Food, art, wine, golden light — this is why we went. What follows are some of the top moments.