Since there has to be a last day of any visit to Florence, we spent ours enjoying the warm weather, sampling one more straciatella gelato and visiting the Casa Buonaroti. The house was purchased by Michelangelo, but he never lived in it – instead leaving it to his family who filled it with the maestro's memorabilia and give the public a glimpse inside a private home of the 16th century.
There we saw the most beautiful drawing in the world — so astonishing that it stopped us in our tracks. Yes, we all know that the man who painted the Sistine Chapel walls and ceiling could draw. But here was paper and conté crayon that came to life before our eyes. And since there's nothing like the Renaissance for working up an appetite, we were completely ready for lunch at the Osteria Caffé Italiano, one of the cafe off-shoots of the temple of cucina, Alle Murate,
where we'd eaten four years earlier.
Yes, this was yet another dining experience inside a wood-lined room with vaulted ceiling and clerestory windows, 16th century – the heyday of the palazzo.
We chose glasses of a fine Rosso di Montalcino "Avignonesi" 2005 and a burnished Ciliagiolo Principio filled with black cherry aromas. I jumped at the chance to try an authentic buffalo mozzarella di Monfialco — the milky delicacy that never makes it across the Atlantic, and what I got was just that. A single sphere of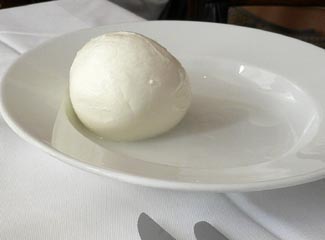 snowy white cheese, that spurted milk when I cut into it. Tightly wound from layers and layers of curds, it was like eating delicate sausage, and went nicely with the crusty house bread and the red wine. Jack's spiedini of grilled meats offered an outstanding wood-grilled selection of chicken, beef and sausages, along with grilled vegetables. My angel hair pasta was topped with calamari and basil. Simple. Wonderful.
Cantuccini and vin santo finished off the lunch, which required a lengthy meditation inside the Baptistry and a lengthier passagiata outside the Duomo before we paid a visit to Orsanmichele, and then back to our room to pack.