Mamma mia! is what we thought the minute we walked into Mamma Gina a smoothly-run, casually elegant
series of dining rooms housed inside a 15th century palazzo across the Arno. Heavy beams and stone arches — pretty much standard issue in Florence — form the backdrop for the real action here. Waiters are so skillful that you almost cannot have a bad experience. Sitting with visitors from many countries and even more locals, we started with sautéed fresh porcinis on squares of delicious polenta and continued on to dining heaven.
After a starter of fried zucchini flowers, I addressed a bowl of ribollita – long-simmered beans, carrots, spinach, garlic and anything else the chef wants to add. This is the great signature dish of the city, and Mamma Gina's version was superbly comforting. But even better was another starter of celestial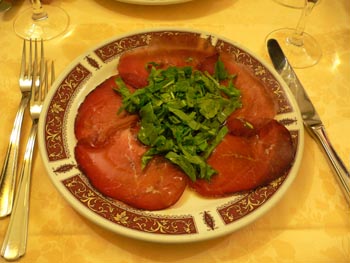 dry-cured bresaola topped with chopped arugula and drizzled with the house-made olive oil. Rich earthy meat and fresh pungent greens. Yes, I did say house-made oil, from Mamma Gina's own olive groves. Another plate of freshly harvested white cannellini beans, served with nothing more than the olive oil, was unbelievable.
In California, it's rare to find dishes that aren't garnished to a fare-thee-well. Here the restaurant is so confident of its ingredients that it dares to offer foods undecorated. Pure. Simple. Direct. (A vivid illustration is my buffalo mozzarella described below.)
With dinner we chose a bottle of Planeta Nero d'Avola Santa Cecilia 2004, rustic enough to partner the garlic and olive oil, refined enough to charm.
Jack ordered the grilled lombatina – veal chop – along with the white beans. No squiggled decorated plates. This is masculine presentation to be sure. And it has to be said — vegetarians shouldn't be allowed to take up space in Florence, so magnificent are the grilled meats.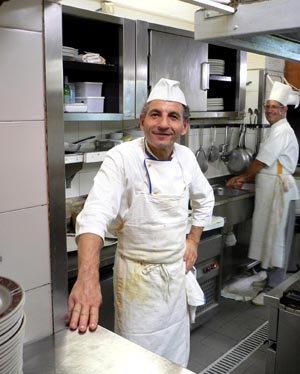 Our waiter was informative, thoughtful, skilled and able to joke in five languages. We all shook hands at the end of the dinner. The ambience couldn't be found any other place in the world. (Actually that might not be true – since there's a Mamma Gina in Palm Desert and another one in Newport Beach. Imagine.) The kitchen staff accepted our compliments with lots of smiles, laughter and shaking of hands. Vittorio, seen here, is one of the reasons why our meal at Mamma Gina has entered our personal hall of fame.