Andrea London is a woman whose business card bears the word "Cheesemonger."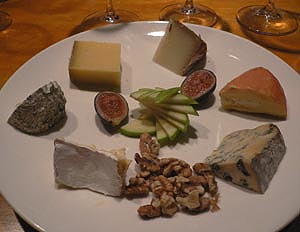 Teamed up with oenologician John Locke for a mouth-watering series of wine and cheese workshops at Soif, London and her expert colleague are re-setting palates overnight.
After attending the French wine & cheese pairings (fromages shown left), I realized that I was incapable of stopping – so I joined the table again for an evening of Italian wines & cheeses. There is just so much that's breathtakingly right about this kind of enjoyable hands-on learning experience that it's hard to know where to begin.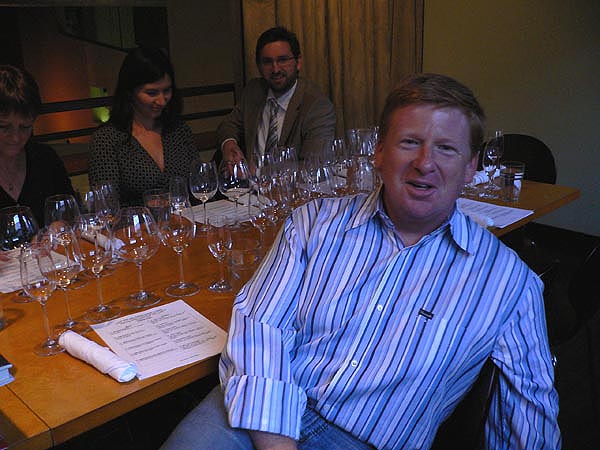 Everybody loves wine and cheese, but most of us don't do much about it except to nosh around and hope to get lucky. But Soif is changing all that – one special wine & cheese pairing at a time. First there was a California event (which I didn't attend). Then there was a French one (which I did) and that evening was so laced with epiphanies, e.g. Sancerre can be miraculous paired with oddball chevres, that I happily plunked down $75 (a bargain, my friends) and returned to learn more.
The cheese are introduced from mildest to most pungent, (which usually involves lots of mold). Wines are intriguingly paired, sometimes to harmonize – as with a lovely Sangiovese and a pecorino from Basilicata – sometimes to contrast and punctuate, as with a delicate, pear-scented Ca'del Bosco bubbly from Lombardy which John chose to caress the mighty parmigiano Reggiano, truly a queen of cheeses.
Here's a factoid from maestro Locke: champagne is the perfect libation to accompany any cheese. Who knew?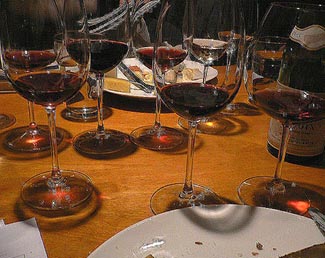 During the class we were invited to pay close attention to aromas, texture (crumbly, creamy, grainy), rind, flavor – and then watch how these characteristics of the cheeses altered when tasted before and after sips of wines that ranged from floral to tannic. Often the wine powered the cheese into a transcendent, altogether new personality. It was a delightful experience – nicely laced with geographical tidbits, minutiae about farm, creamery or industrial sources of product, and lore about that most mysterious of processes, affinage (aging).
The bottles of wines were passed around for participants to check out labels, alcohol content, estate information — and everything is available, including the cheeses, downstairs at the Soif shop. Which brings me to the best part.
There are yet more classes to come! The three that just took place in September and October were classes in the basics of pairing certain wines with certain cheeses. Now the adult classes begin. Series Two: Pairing Wine Varietals with Cheese.
October 22 – Pinot Noir, red Burgundies and cheeses from France and the US
November 5 – Grenaches with cheeses from US, Italy and France
November 12 – Sparkling wines and cheeses for holiday entertaining
* Classes begin at 7:00 pm and are approximately two hours. The price is $75 per class, which includes tax. Reservations are essential!!
* To register, call or email – 831-423-2020 or Luke@SoifWine.com