From waaay down under — New Zealand — comes my new favorite, crisp inexpensive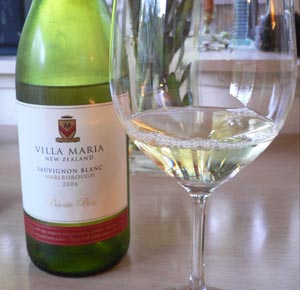 easy-sippin' Sauvignon Blanc. Villa Maria 2006, "Private Bin," is a fun companion for tapas and seafoods, or just for unwinding after a hard day at the keyboard. Full of citrus and granite, this baby opens up – not a whole lot, but enough – into a delicate olive grove finish. It offers a respectable, but restrained 13.5% alcohol.
The best part? The $7 price tag.
At Cost Plus World Market.
Go get some.