After the performance, I roamed the broad sidewalks outside the Dorothy Chandler Pavilion along with most of the Mark Morris Dance Group audience — we were trying to come back to earth. Across the street in the gleaming Disney Hall is Joachim Splichal's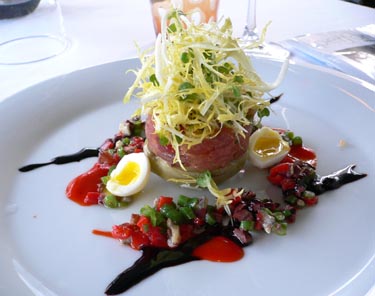 flagship Patina, one of the icons of California cuisine. I had wisely made an on-line reservation for an early dinner there – in time to unwind, have something clever to eat, and still get back to LAX for the flight through the burning hills, and home.
Pretentiousness reigns at Patina, where the woman at the front desk is wearing BCBG and two guys show you to the bathrooms. One points, the other opens the door. The head waiter/sommelier has a French accent — which might be genuine. Or not. I decide that ordering well is the best revenge, and begin with a glass of Tempranillo. A Viñas del Cenit Tempranillo 2003 ($14) to be precise — lots of fruit and bold tannin. Another waiter brings around a tray laden with bread possibilities — I choose something with enormous whole grains and several tiny rounds of sourdough that are fabulous. An amuse is presented by waiter person number 3 – it is a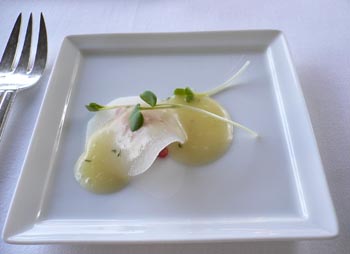 morsel of lobster hiding under a transparent disk of daikon, sauced with something too sweet containing perhaps grapefruit. It is very pretty – and almost flavorful enough to be called delicious.
The moon is rising over the old LA courthouse across the street and down the broad lawns. That's the same courthouse the Broderick Crawford and Jack Webb both stormed out of in the heyday of old black and white television. Cool.
My dinner at Patina is a rococo creation (see above) of yellow fin tartare, on a heart of artichoke, topped with frisée and surrounded by gems of black olive, white anchovy, lardons of pancetta in a rich reduction of balsamic and soy. Tiny emeralds of haricots vert pepper the plate, and a poached quail egg adds yet more voluptuous texture. It costs $19. It is damn delicious I must say. But very tricky to attach to a fork. My fellow patrons are dining as if Rome were burning. Make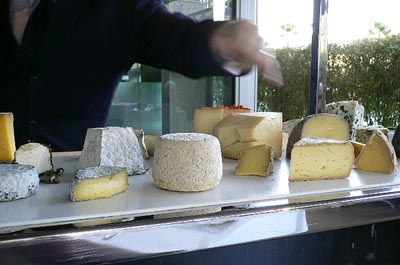 that Malibu. And it was.
Just to irritate my obsequious waiter (the one with the faux French accent) I order a trio of cheeses from Patina's very handsome cheese cart. Only the époisses is really memorable — and at $18 for three samples, it should all be memorable. But the Valdeon blue is acceptably pungent – and the final moments of the tempranillo provide closure to the meal. The woman in BCBG doesn't have any idea what a cab costs to LAX, which is unfortunate. She guesses $20something – the real cost is $40something. Not in Kansas anymore.