Granted this is high-end tourist dining, but still…when in the belly of the downtown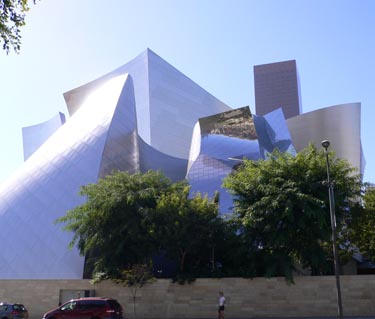 LA art scene — I refer to the splendid, if self-congratulatory performative smorgy known as the Dorothy Chandler Pavilion, the Mark Taper Forum, the Disney Hall, yada yada — you will invariably find yourself with few dining choices. Of course you could always buck the worst traffic this side of the East Bay and head to some chi-chi hot spot on Melrose, or in Santa Monica. But let's say that like me you've got only one day and one location — the Music Center complex. Your options are limited – and pricey. But you know that going in. So. Last Sunday, armed with a ticket for a 2pm matinee of Mozart Dances, I needed a light lunch, and a light post-performance dinner, before heading back to LAX and the flight home.
Kendall's Brasserie obliged with the lunch part – Kendall's is very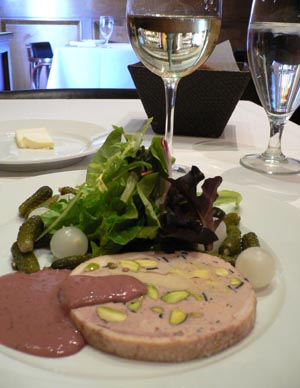 conveniently located in the street-level front of the Dorothy Chandler, i.e. downstairs from the huge plaza and performance hall itself. Right across the street, the Frank Gehry crumpled spaceship that is Disney Hall blazed in the late morning sun. The huge boulevards were largely empty, it was already 85 degrees out — a typical Sunday in downtown, Civic Center Los Angeles.
Kendall's — part of the spiffy Patina empire of performing arts caterers — is a comfortable, generic grill with a no-brainer menu of crowd-pleasers. I chose a ballotine appetizer ($13.95) of Long Island duck, studded with pistachios, foie gras and a violet mustard sauce. A fluff of lettuces, and an entire jar of cornichons (I counted 14 of them) topped the tasty, if uninspired creation. Wonderful grainy bread and a too-chilled, but generously poured Covey Run 2005 Sauvignon Blanc rounded out my meal. Maybe the glut of little pickles signaled that this was a dish for a man? But in the same generous spirit, there were at least 20 pistachios in the delicious duck paté. Service was perfunctory, but given the convenience of the whole thing, it wasn't exorbitant. I left half the wine so as to be able to soak up more of the amazing dance performance.