Thinking locally is a delight for Santa Cruz wine lovers. Drinking locally. After all, we don't live in Dayton. Here's an example of what I mean – the bodacious, multi award-winning Hallcrest Pinot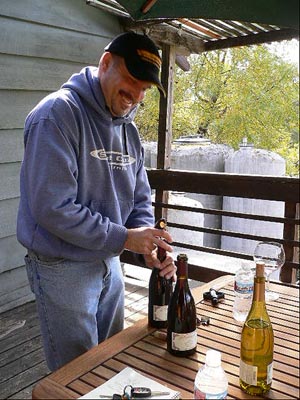 Noir 2004 Belle Farms. Showing elegance as well as the exuberance of new world Pacific Rim terroir, this gorgeous garnet-hued wine is laden with allspice and raspberry. At least to start with. It opens into a supple encounter with leather, lemon grass and black cherries before finishing up with pure plum. The structure holds nicely all the way through.
Winemaker John Schumacher loves discovering foods that heighten the varietal potential of his wines. And I have to thank him for this stupendous wine and food pairing — tamales (chicken with red sauce), hot salsa colorado and Hallcrest Belle Farms Pinot Noir.
A serious partnership — the earthy sweetness of the masa, the pungent bite of the red chiles and the berryish wine. Sounds like holiday party food to me.