Any holiday at Ristorante Avanti can be juicy. Especially Halloween, which brings out the outrageous costume consciousness in the normally sedate staff of servers. To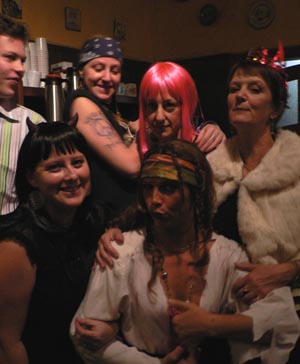 be candid, any excuse to dress up and act out is welcomed by this hard-working, hard-playing group, and so it was even more fun than usual having dinner at the Mission Street landmark on All Hallows' Eve.
We were shown to our table by Willy Nelson, our order was taken by the Queen of England herself, bread was brought by a young man whose daring disguise was as smart as it was obvious. He was dressed as himself! A charming pirate of the Caribbean made sure we had enough bread and a witch with pink hair swirled through the patrons.
Even better was the food. We started with a shared sauté of wild, fresh porcini mushrooms — sweet and earthy — on a bed of frisée. Jack then proceeded to dive into his Avanti standard, the exceptional meatballs with housemade pappardalle. I ordered a special of Liberty duck breast, done rare and smothered in more sautéed porcinis – yum – on a bed of ragout of various green and yellow beans and infant white turnips.
An appropriately wicked dinner, served by a skilled band of pranksters.